Our Story
Founded in 2018, African Youth Architects is an innovative nonprofit organization that develops curricula and resources to support; students, parents, teachers and partners with education ministries to create access to quality education in Africa. Supports youth projects in their thinking, creation, implementation and Achieved phase. We inaugurate the Young African Leaders award program recognizing game changers in Africa.
From the UN Sustainable Development Goals (SDGs) to AU Agenda 2063, we realized that the things we are passionate about the most are to invest in education.  By doing research and identifying issues that affect quality education in Africa and campaign across the continent to develop curricula and resources for students, upgrading education for children, facilitating access to resources for startups young entrepreneurs and encourage the formalization and growth of micro-small and medium-size enterprises (MSMEs) including through access to financial services. 
OUR MISSION:
African Youth Architects mission is to Improve the Youths of Africa by providing the fundamental needs for quality Education to improve their knowledge and providing young Entrepreneurs with resources needed to promote their business endeavors. 
OUR VISION:
To be a premier resource leader for youth architects; Enriching the quality of education, serving the community, and supporting Young Entrepreneurs in Africa.
"Human Capital is the fundamental principle of achieving success and the primitive stage of unlocking the innate talent of one's knowledge." CH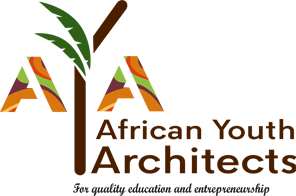 What We Do
Education Promotion Programme For Parents
Young African Leaders Awards
Provide Grant mini grants to Youth Projects
We are a family of young experts, we works across borders to make AYA vision a reality.
Some ways in which we put these aims into action include:
Promoting Access to Education and Mitigating Learning Crisis:
We are aware of the millions of children out of school in Africa. And we know that few children that are in schools are experiencing learning crisis. In African Youth Architects, we are determined to proffer lasting solutions to all these problems through evidence-based projects. With research, issues affecting quality education in our respective countries can be identified, and subsequently, the attention of the department of education and lawmakers would be directed to address those issues.
Education Promotion Programme for Parents:
We have oriented the parents about their roles in enhancing the education of their children by actively assisting them in learning.  As of the end of 2019, we orient more than 1000 parents in over 6 villages in the West Coast Region in The Gambia.
Teacher Training Program:
Our program to train teachers in Africa. Children are not learning. Teacher training is the key.
Expected Results
200 trained teacher
Improved Teaching Skills
Improved Learning Outcomes
Future Plans
5000 trained teachers
10 schools were surveyed in Kanifing Municipality, and West Coast Region in The Gambia to know their educational needs. Our study shows that teachers need basic computer application training program. We are calling on all the change agents in the world to support the implementation of this laudable project, as we intend to execute it this year 2020 in The Gambia.
We bring together more than 100 youth leaders, parents, students, teachers, policy makers, government, and non-governmental organizations to embark on project(s) that would improve the access to basic education for children around the world.
We identifies the need to design Young African Leaders Awards. Every year, we honor and appreciate the exemplary achievements and contributions that young people have made in Africa and beyond
We provide grants to youth projects which share our values. In this year 2020, African Youth Architects has backed one project in Nigeria. We gave a grant of $139 to a fellow at Teach for Nigeria to support his project of providing school uniforms to pupils in Sheik Gumi Model School in Kaduna State
OUR MEMBERS ARE YOUTH EXPERTS FROM ACROSS AFRICA, WHO ARE MAKE A DIFFERENCE.
'AYA FOCUSED ON CREATING EMPLOYMENT AND IMPROVING THE QUALITY OF EDUCATION SYSTEMS IN AFRICA.'