Achievement in AYA Research Lab Class of 2022
AYA Research Lab spotlights promising approaches to persistent challenges in Africa's education systems. Testing technologies that help innovate teaching methods, focusing on inclusive approaches that can take into account the needs of every student, boost teamwork and problem solving.
14th May, 2022 marked a very important day for the first Batch of AYA Research lab, 38 students as they graduated from AYA Professional Certificate in Educational Research "Create and Innovate in SDG4 Program." and are on the brink of joining a dynamic network of accomplished scholars and professionals around the globe.
Opening speech by the President of AYA Research Lab, Ph.D. Candidate Abdullahi Mohammed Hussein.
During her keynote address, Chancelle Bilampassi Moutsatsi, former special adviser of the African Union Commissioner for Human Resources, Science and Technology, and Pan
African University Communication Officer (AU) lauded graduates for their "monumental" achievements in AYA Research Lab and encouragement to young people taking leading role in the AU theme of the year,"Strengthening Resilience in Nutrition and Food Security on The African Continent: Strengthening Agro-Food Systems, Health and Social Protection Systems for the Acceleration of Human, Social and Economic Capital Development." Her words were deeply appreciated to not only the graduates but to all the families and representatives who were in attendance. She has everyone's gratitude, respect and deep admiration.
The Guest speakers, Muhammet Aydın, Saikou Camara, and Hillary Innocent Taylor Seguya, also took to the floor to congratulate the graduating batch. They shared their invaluable insights and inspirations to pupils, educators, parents and the African community representatives during the ceremony.
Congratulations to the recipients of AYA Research Lab 2022 Best Paper Awards.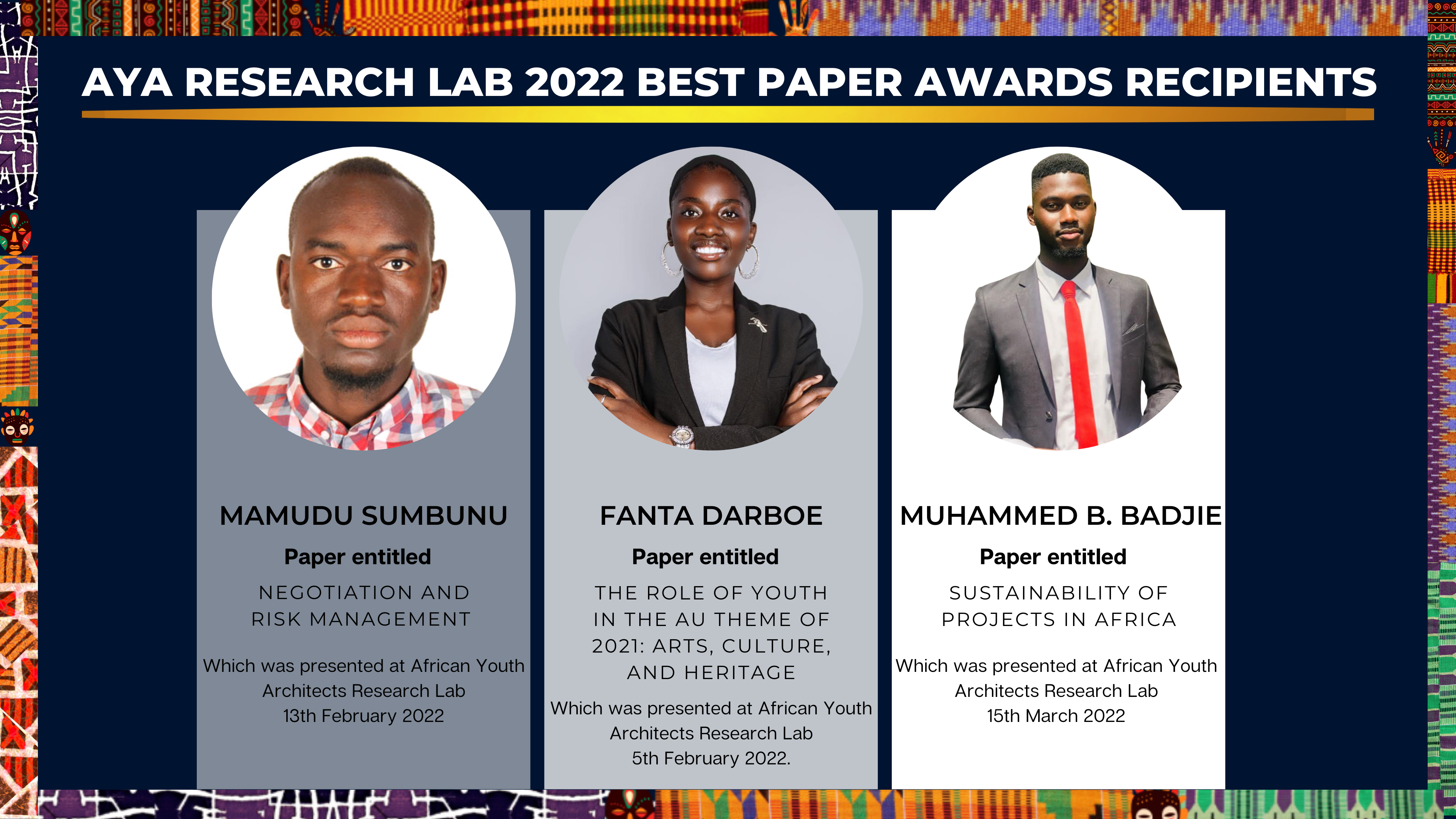 These papers were selected as the result of groundbreaking research in their respective areas. By recognizing these selected papers for their ingenuity and importance, AYA Research Lab highlights some of the theoretical and practical innovations that are likely to shape the future of Africa's education systems.
Congratulations to the recipients of AYA Research Lab 2022 Best group Awards.
Group Members
Fanta Darboe 

Sallu Osman Munu 

Nyanda Fofie Baimba

 Ousman Jammeh

 Fatou Sanneh

Vinord Musa

 Derick king Banjura

 Fatou B Bojang 

Micheal kelson kel-kessebeh 

Abubacarr Darboe