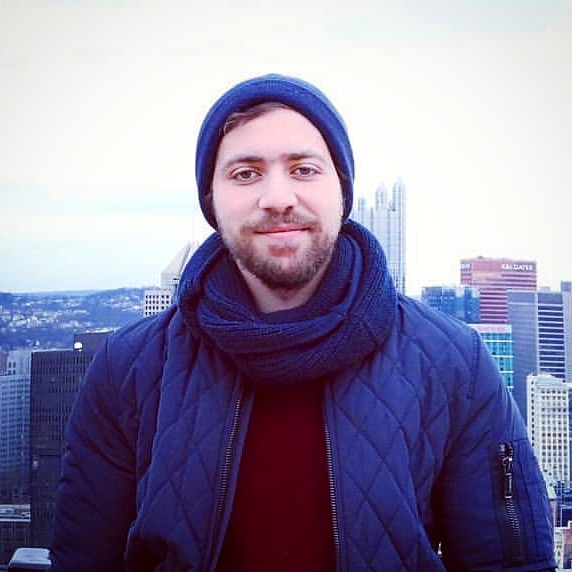 Abdelhalim Zaibi
Tunisia
KWAME NKRUMAH'S VISIONARY AWARD
"I believe that making it to the top 30 is a huge achievement but nailing one of the awards is a dream come true. I think I do possess the right qualifications to be considered for the KWAME NKRUMAH'S Visionary Leadership Award. This specific award fits my background perfectly.
I am very obsessed with associative work and my journey with joining organizations/associations started since an early age. I undertook multiple important roles along the way from being a project manager to becoming a business owner and that's thanks to every single adventure I had in different parts of the world. I tried my best to learn from people so I can build the current version of myself. I am in journey of gaining knowledge about how to become a good example to follow, someone who can make a positive impact.
My plan after winning the award is to keep building a strong community of change makers. I am planning to launch an initiative focusing on youth awareness when it comes to leadership skills. In other words, I will make sure to use my network of Entrepreneurs, content creators and people who made a postiche change in order to make a series of bootcamps to benefit the Tunisian youth in a specific area which is Leadership.
To sum it up, it'll be a huge honor to receive such a prestigious award such as the KWAME NKRUMAH'S Visionary Leadership Award and I will do my best to keep representing my country Tunisia in the best way possible."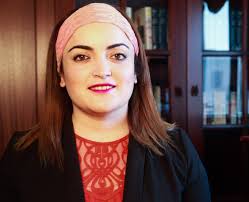 Ahlem Nasraoui
Tunisia
UNIVERSAL PEACE AWARD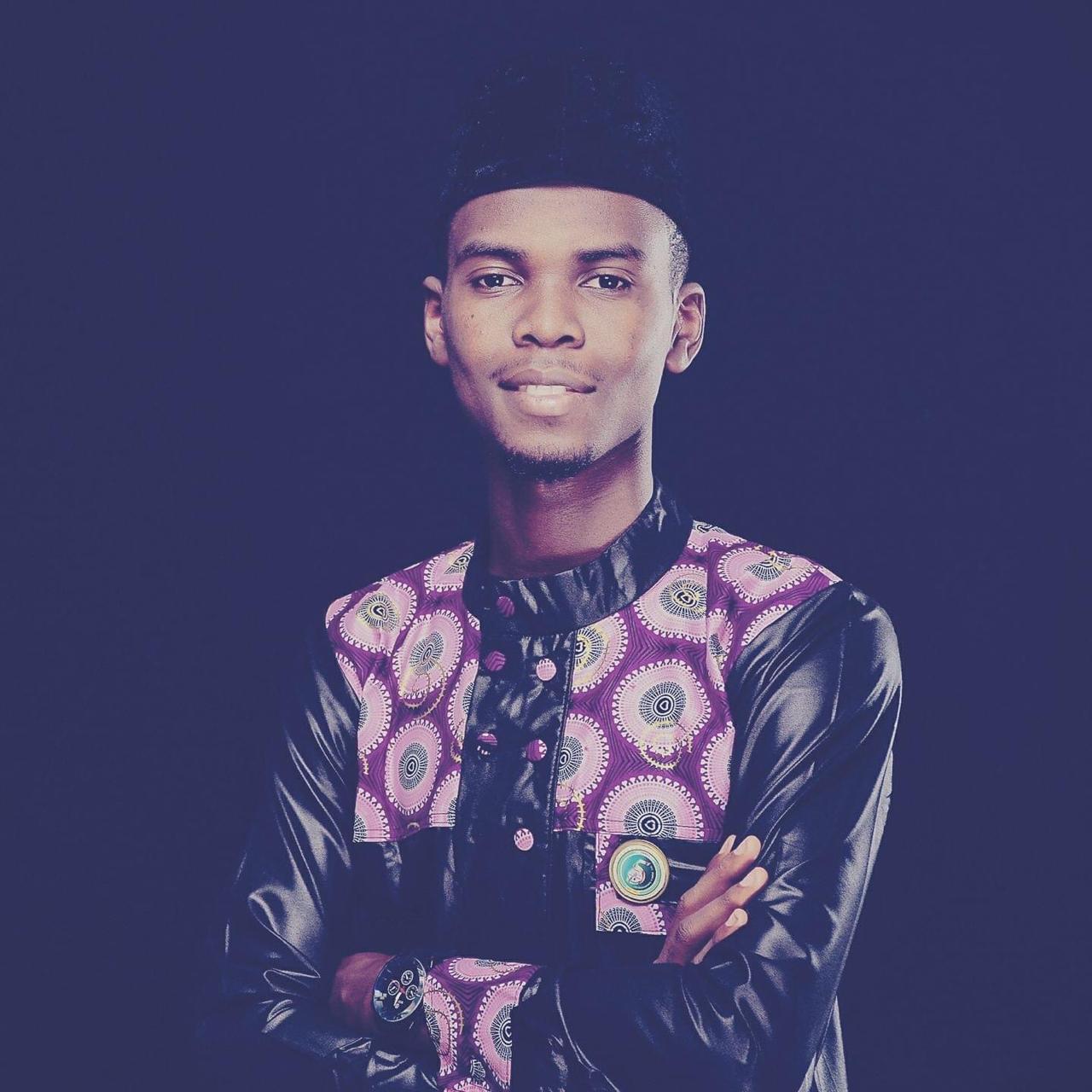 AHMED AL-HASSAN SHERIFF
Sierra Leone
KWAME NKRUMAH'S VISIONARY AWARD
"I have dedicated my life to serving Africa, leading humanitarian projects that have taken life-saving medical assistance to over 20,000 people in vulnerable African communities;
I believe in youths, so I am dedicatedly serving as an African Union Youth Advocate to champion youth issues locally and continentally and have organized training programs that have directly benefited over 2,000 young people from across Africa. In addition, I helped the AU prepare a toolkit to be a guideline in training generations of African Youths on Leadership and Pan Africanism; I love Africa, deeply, and I want to continue to do more to make her future bright. Winning this award will be an endorsement to the impact my efforts are having in helping vulnerable communities and empowering young people and I will leverage it to the maximum to build networks and unlock opportunities to further boost and improve my work."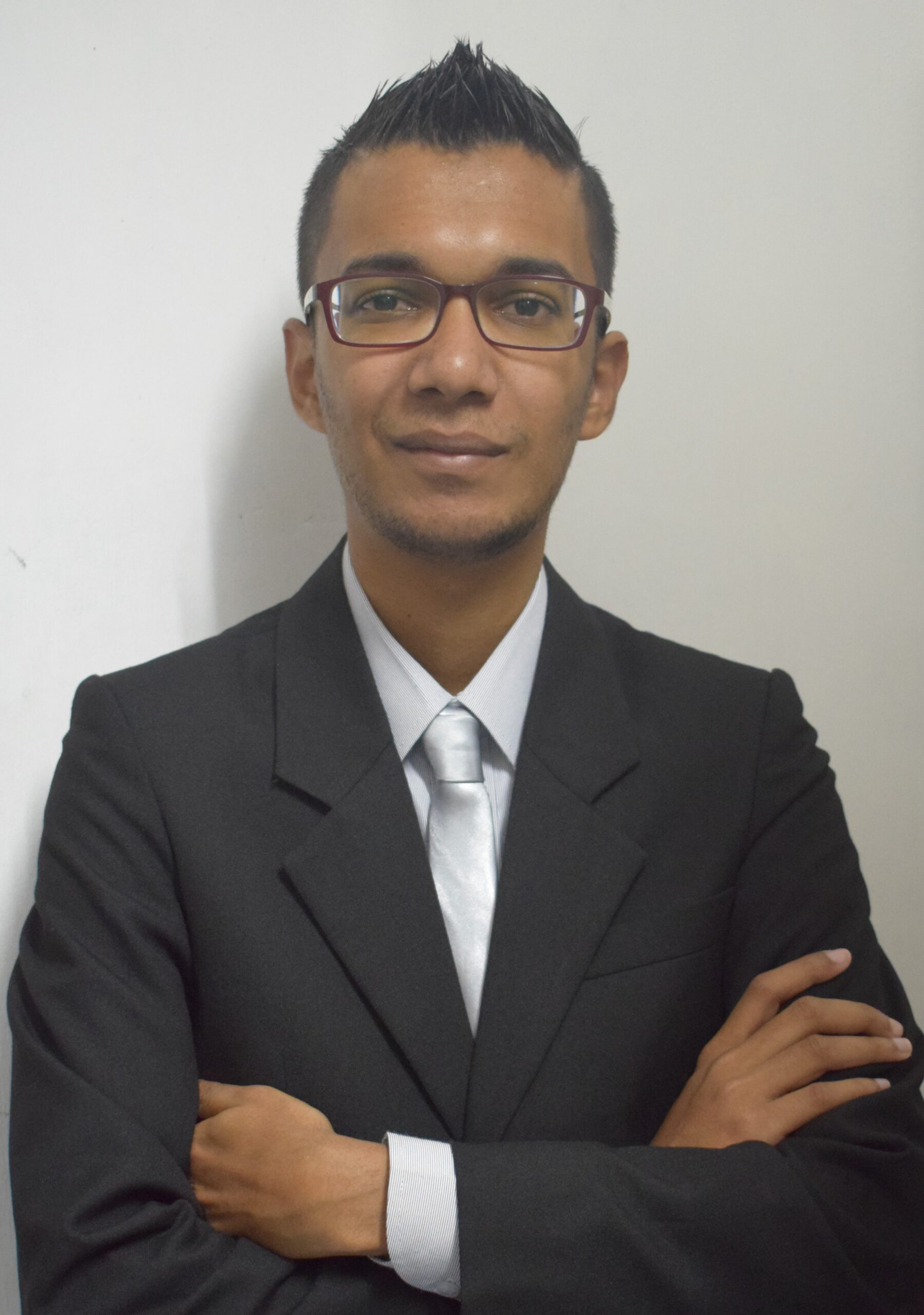 Chelvin Ramsamy
Mauritius
EDUCATION STAR AWARD
"I would be a well-deserved recipient of the Young African Leaders Award as I am an exemplary young African leader in whose blend of personality and character Africa will take pride. After winning the award, I shall unite Africans of all capacities, promote mutual understanding and change people's consciousness towards building an inclusive African continent. I will put into use my award as a gift and tool for the benefit of all. I will actively promote freedom, peace, prosperity, social attainment, dignity, human rights and fundamental freedoms among all Africans to share equal opportunities. I will lead peaceful fights against racism and discrimination while ensuring that Africans are longer consumers, but creators and innovators who are the driving force at all levels of society. I will advocate an entrepreneurial spirit to enable Africa to take with dignity its deserving position as an equal presence in the 21st century globalised world."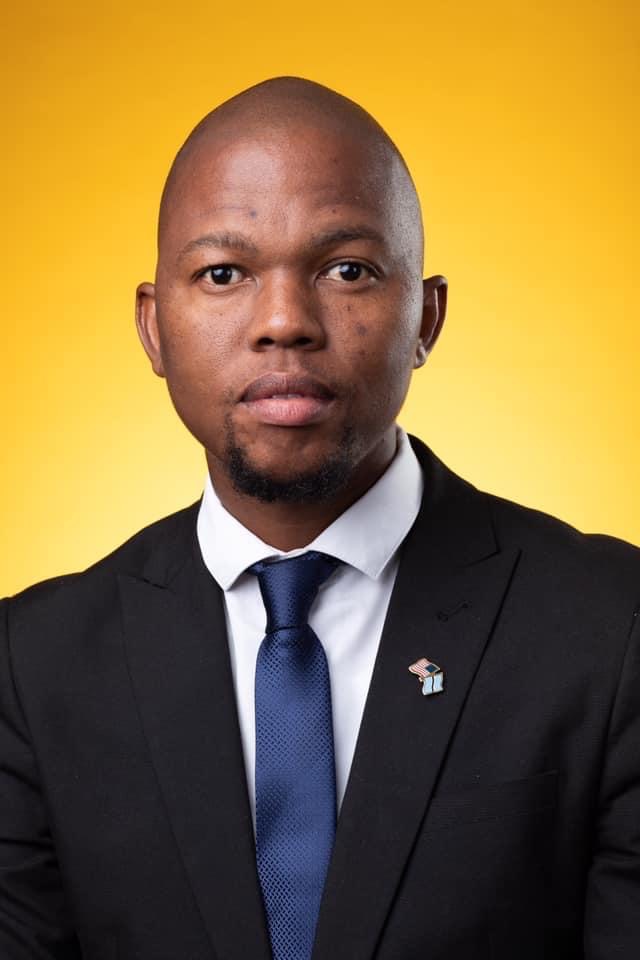 Christopher Christian Seagateng
Botswana
NELSON MANDELA'S HUMANITARIAN AWARD
"Through my organization I have showcased innovation by taking advantage of the social media and usage of mobile phone to chanel my energy in addressing one of the most pressing issues in our continent, youth unemployment. An evident success of over 12 000 young people being employed through my initiative and over 200 000 reached weekly on job readiness skills development. Winning the award I will become a strong ambassador for the AYA to encourage other youths within my country and Africa to take part in them. I will also use my various networks and affiliation to garner support and partnerships to the noble project of the awards. I aspire to use my award as an influential reference point to knock on various doors and earn a seat in various tables for my next project of Online Youth skills for development in Africa to fight youth unemployment."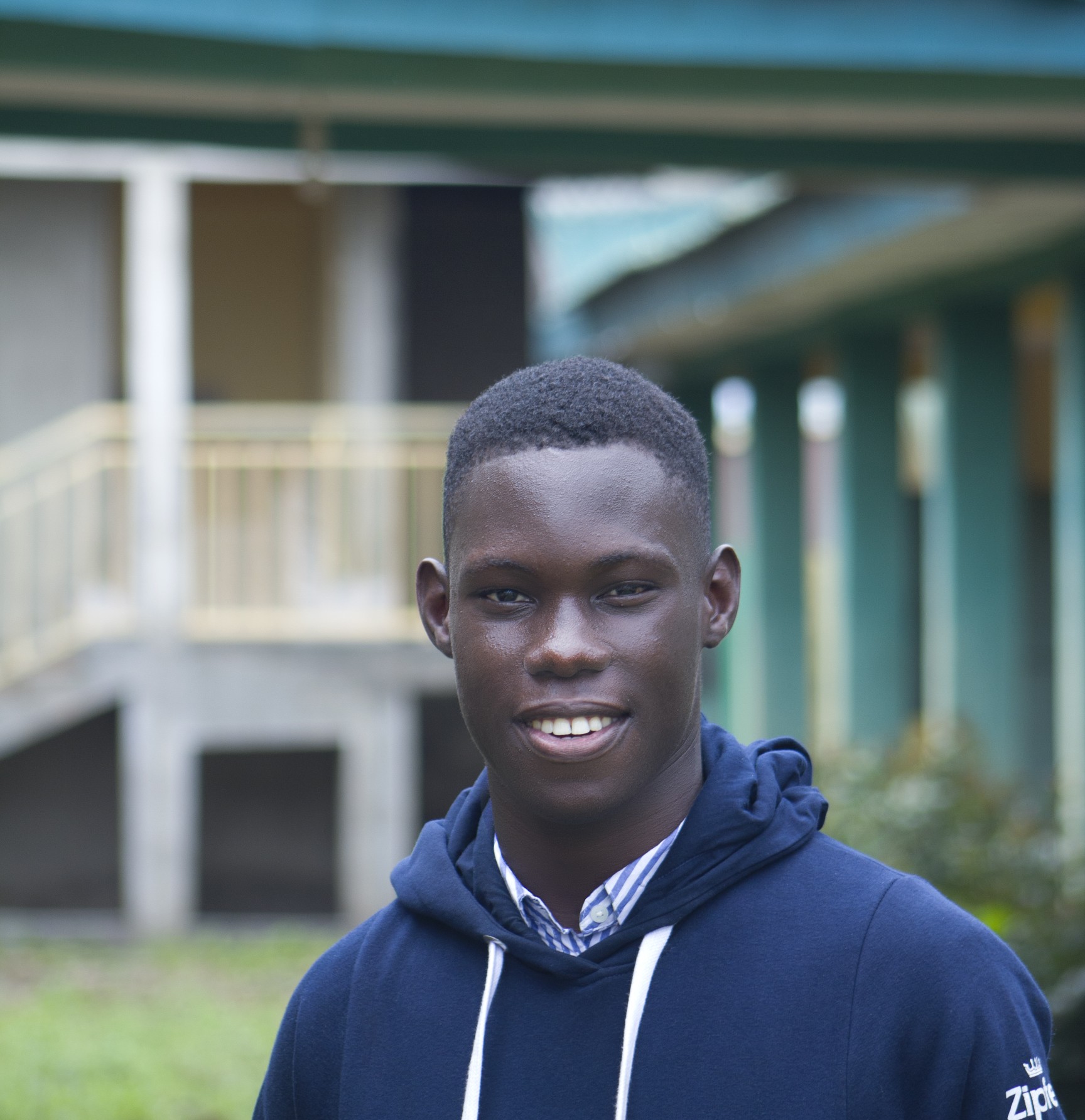 David Adeyemi
Nigeria
GLOBAL ENVIRONMENT AWARD
I am focused on creating reduced risk, next generation sustainable products that would positively impact the environment likewise the health and safety of individuals interacting with them.
At the moment, I am concluding the development of biodegradable paper/packaging materials from organic wastes. These papers are seeded and will turn into flowers or vegetables within 30 days of their disposal. This will help reduce the frequent felling of trees for paper production and could serve as a blueprint to embracing sustainable packaging solutions.
By the end of this award, I would have achieved the plan of launching our first product for public view and interaction.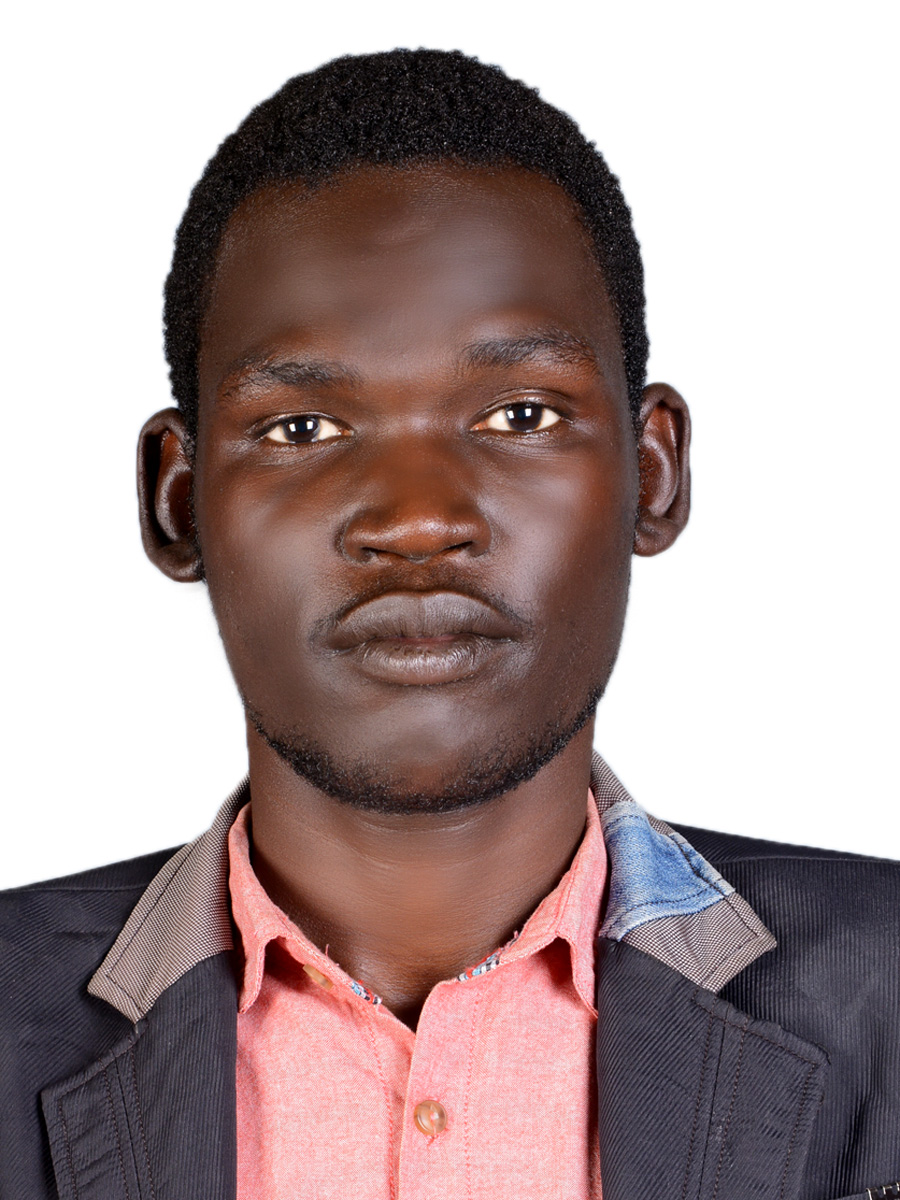 Deng William Alaak
South Sudan
UNIVERSAL PEACE AWARD
"I am a self-motivated young person with great ideas that contribute to social and economic development of my community, through my creativity am able to make an impact and inspire many youth in my community to be change makers for the welfare of the society, fostering spaces for youth to have a voice and engage in participatory dialogue with other youth and relevant stakeholders at local and national levels, and supporting participation, leadership, and empowerment prospects for the youth as a significant path to follow.
My plan is to establish a center for national forum of young leaders in South Sudan to discuss their own issues and challenges of the peace building through dialogue, debates and information sharing and this will enhance them collaborate and build network among themselves and become great future leaders. Fostering a culture of peace, justice, envision building resilience, cultivate the culture of tolerance, and inclusivity."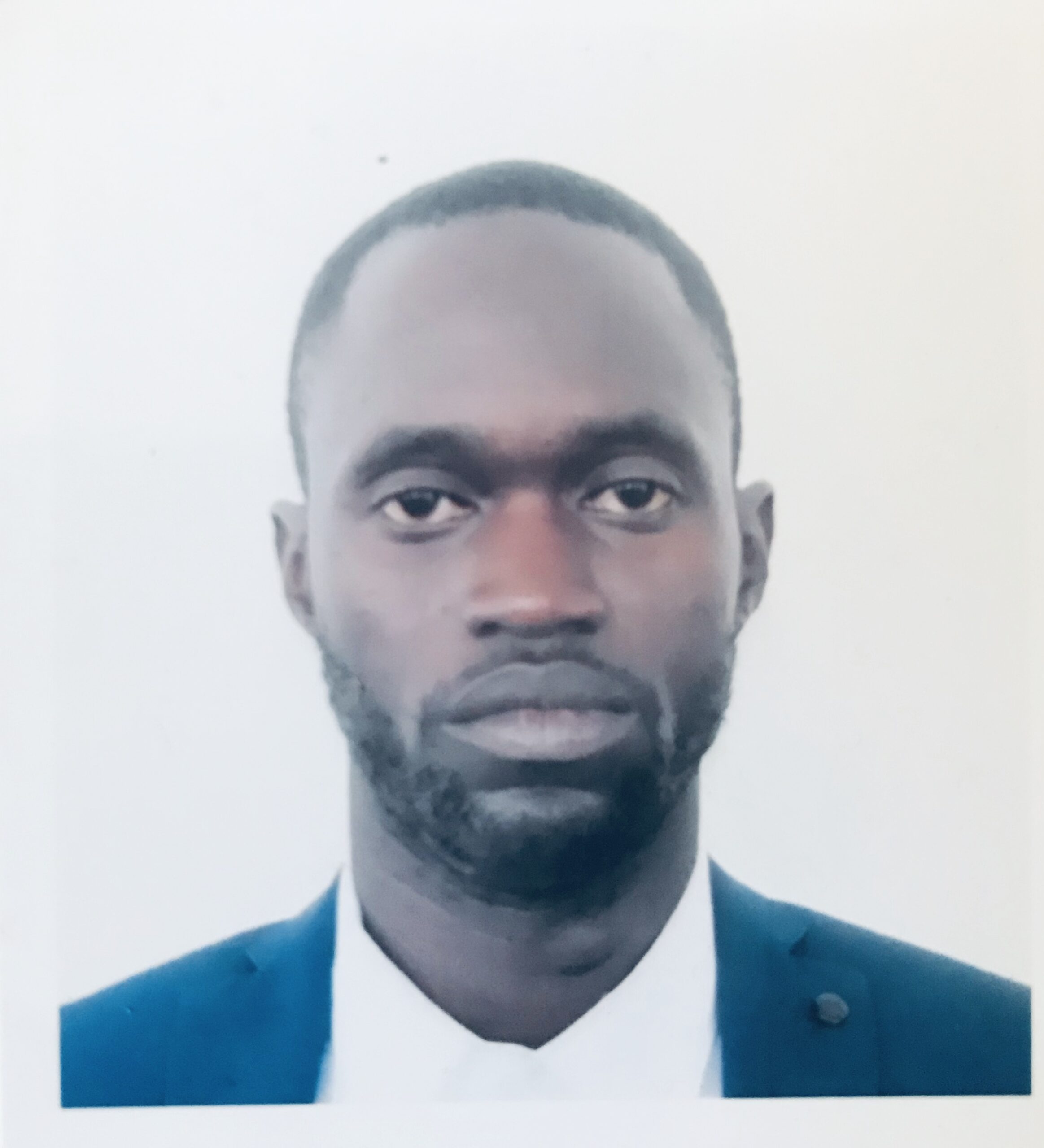 Djibril Niang
Senegal
GLOBAL ENVIRONMENT AWARD
"To say that I am the best would be pretentious of me because I do not know all the other
Candidates. However, I can assure you that this prize is made for me and this for 3 reasons
1 Constance: Since my childhood I have participated constantly in the fight for the
preservation of the environment and with JVE SENEGAL it became a profession in 2011
2 Commitment: my commitment to the preservation of the environment is flawless and has
allowed me to share my knowledge around the world
3 Professionalism: I started from scratch by creating this organization which after 10 years
has become a global reference in mobilizing youth to fight against climate change thanks to
the professionalism of its members.
We hope to be among the young people who will lift the prizes of this edition in the name of
all the youth organizations in love with climate justice.
WHAT WILL DO AFTER WINNING? The first thing to do is to present this award to the president of the republic of Senegal and to the government of Senegal and my partners. Then we plan to organize a day of sharing with all the youth and women & organizations on the prize and on the protection of the environment. This day will end with the planting of 30 trees representing the 30 participants in the 2023 competition."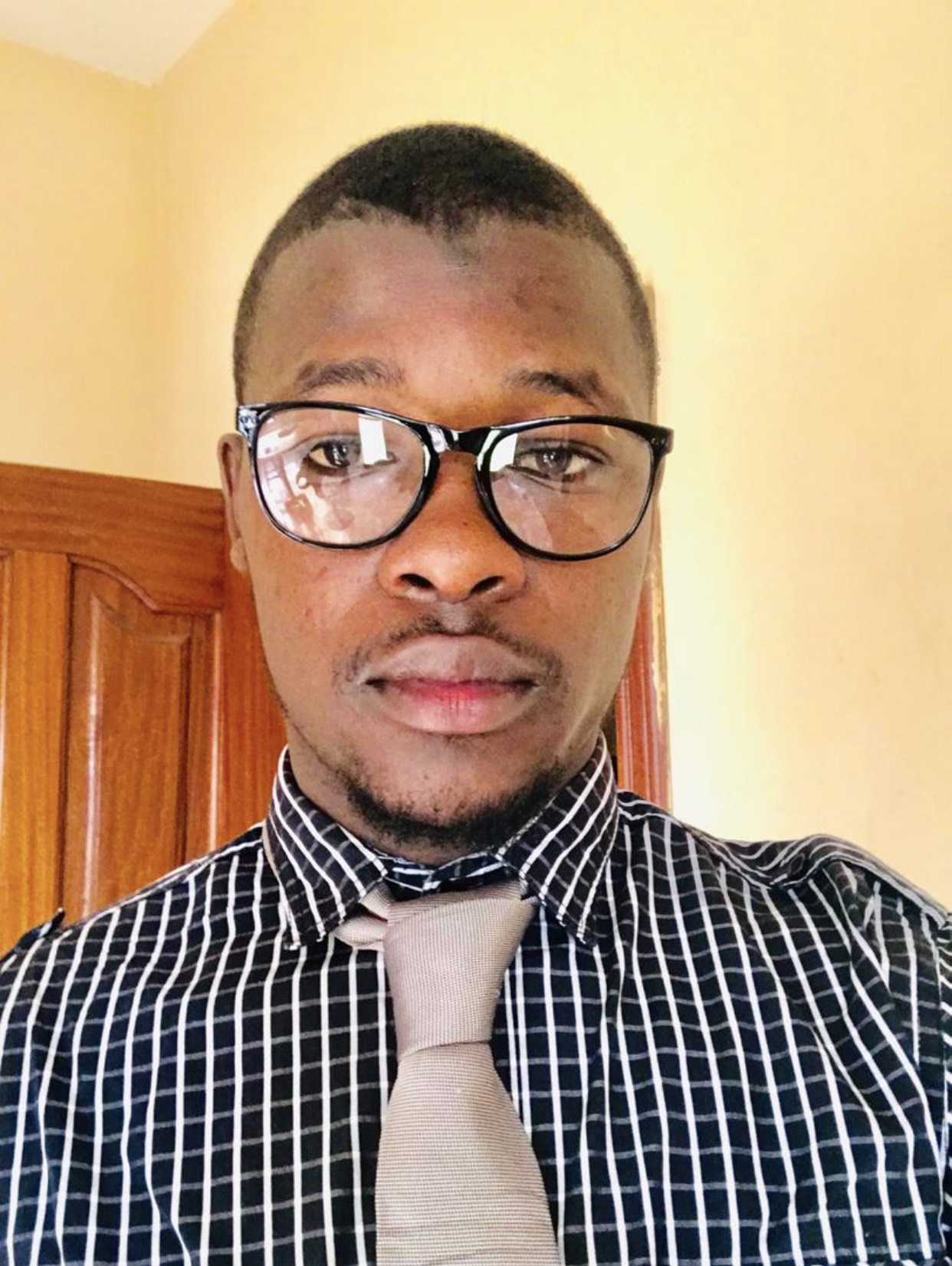 Ebrima Jarra
The Gambia
KWAME NKRUMAH'S VISIONARY LEADERSHIP AWARD
"Over ten years of volunteerism, four years of professional teaching, five years of been an Executive Director, all of which accompanied with winning National and International awards and working with the UN (example: UN-FAO, UNEP, UNCBD, UNCCD, UN-LDC5, Microsoft STEM Coordinator Lusaka, Zambia 2017, 2030 Global Action Ambassador, 2020, Ban Ki-Moon Center of Global Citizen Under 30 Award, 2022). The above, grounded beyond reasonable doubts to my competence and exemplary leadership in managing, executing and achieving any tasks and awards.
Winning the YALA will help my mission; i.e; "to work with grass-root organizations, governments, private institutions and others to address socio economic challenges in local communities within Africa``. It will also boost my visibility and network to partner across the continent. Vote your development partner, to widen the work of protection, prevention and conservation of our ecosystems and biodiversity, storage of nutrients and greenhouse gasses, optimize food production, mitigate climate, say no-to; hunger, poverty and malnutrition.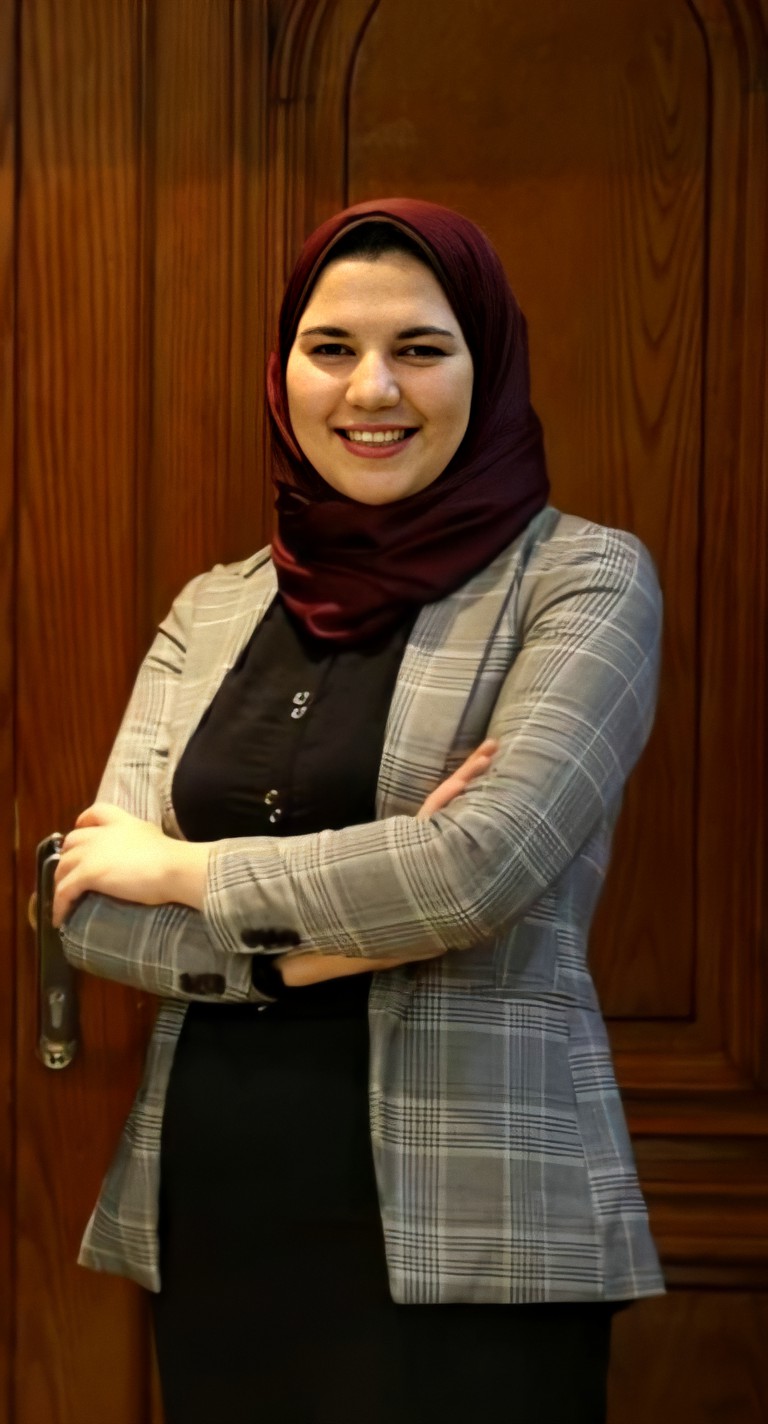 Esraa Younes Abulsaud
Egypt
KWAME NKRUMAH'S VISIONARY LEADERSHIP AWARD
"It doesn't matter being the right candidate as long as
being the most believer one"
This's Esraa Younes, and that's my journey which was full of caring about the
rights of the vulnerable groups (poor, children, disabled & different colored skin);
and their fights against discrimination. I worked as a legal researcher at ACERWC/AU, an EVP of ASMARAT Project at the Egyptian government to the presidential extent, a Coordinator of Differently Abled, a coordinator of the simulation of the post-conflict reconstruction on (APLP), a project coordinator at the AYB for EMYS. And recently, I'm a prosecutor at the Egyptian
administrative prosecution Authority. However, it is worth noting that getting here was not a parallel path to the previously mentioned journey. On the contrary, it is a new closely-related phase. Here, I joined one of the Egyptian judicial bodies that support all the values of
justice, impartiality and integrity by ensuring that the Egyptian state's services reach
all segments without discrimination, by fighting any possible corruption in the state.
Hence, I've the necessary values and authority to pursue my mission and implement
all the gains of my first journey in a more forceful and effective manner."
Fatoumatta L Kassama
The Gambia
FIRST-GENERATION ENTREPRENEUR
"I believe I am the right candidate for this award because of my passion, commitment, and dedication in serving the less privileged. Apart from the lives I have impacted in The Gambia and beyond and my experience in community voluntary services, management, leadership, and communication skills, I have been an inspiration to many youths in my country.
As a servant leader with over 17 years experience in community services, I am committed to serving my community and the less privileged all around the world whenever I have the opportunity. As such I will continue implementing my social impact projects regardless of the nomination outcomes. I am passionate about what I do and winning this award will create more opportunities for me, expand my network for possible collaboration and funding opportunities. I will work closely with the new and previous award winners to impact more lives in The Gambia and beyond."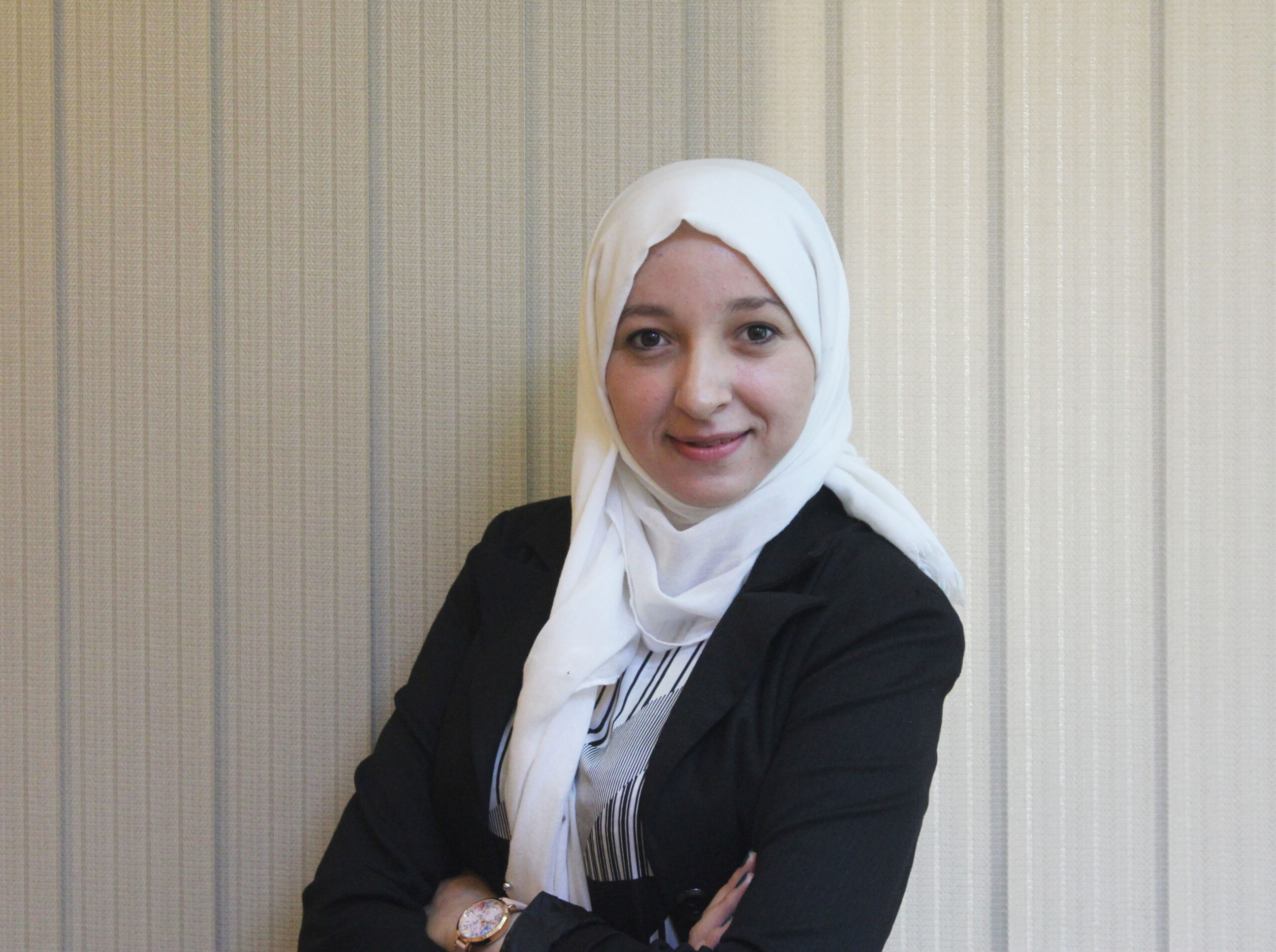 Intissar Rouabhia
Tunisia
FIRST-GENERATION ENTREPRENEUR
"I believe I am the right candidate for this award because I am the co-founder of a startup called InstaPower that aims to provide Africa's most energy impoverished countries with electricity. Since we founded our Startup, we have been receiving the acknowledgment of many organizations and it has been chosen as one of the top four best startups in Tunisia by MAKE IT Africa and GIZ Tunis. Lately we had the honors to be featured by MAKEIT in Africa in the category of female entrepreneurs. We had the chance to present the project in Europe Leading Digital event Cebit in Hannover Germany. If I get the chance to receive the award I continue to work hard with the same commitment and enthusiasm to reach more African countries and provide energy for those who do not have access to it. I will be even more determined and motivated to reach out startup's goals and vision."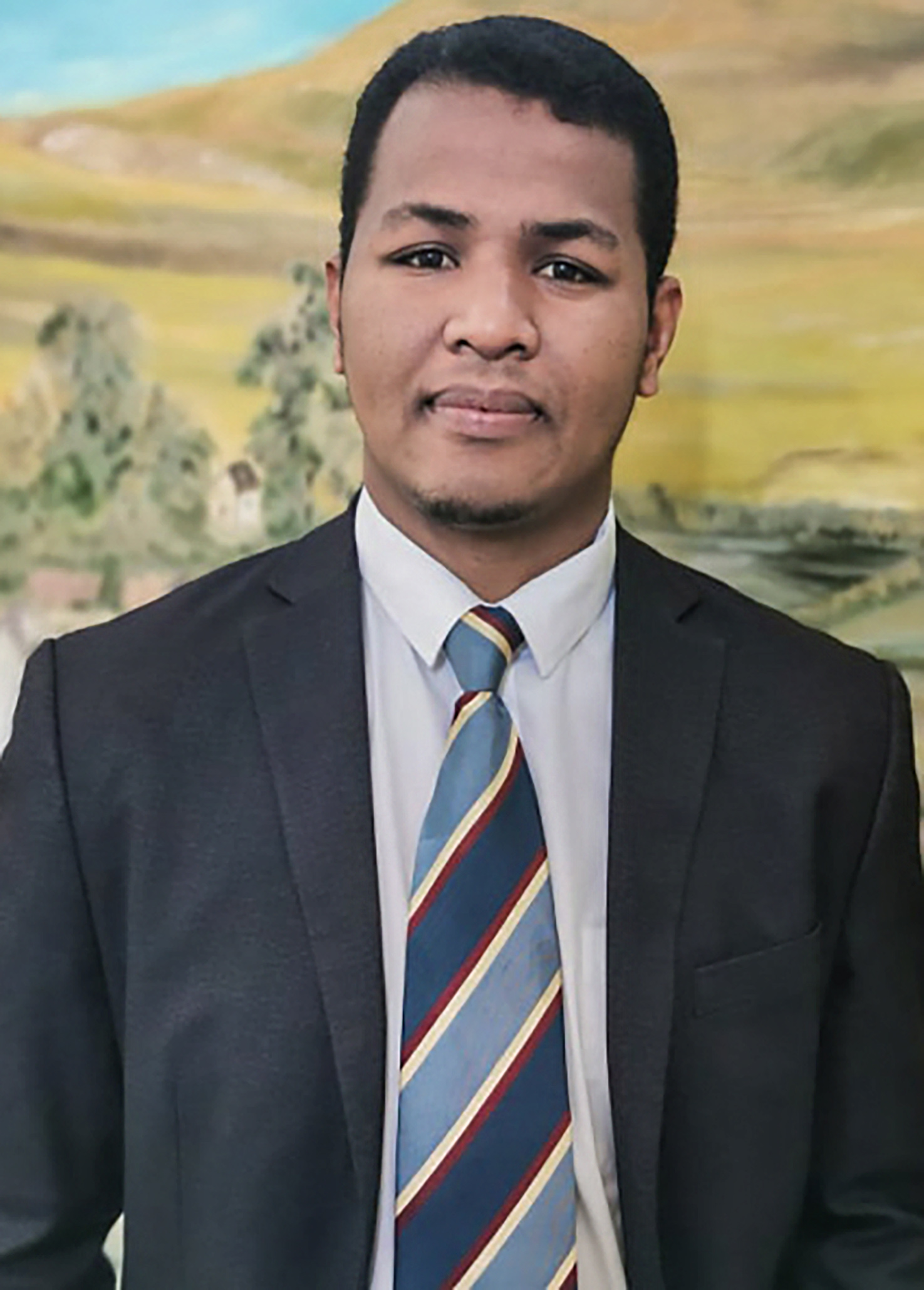 Jimmy Ranitratsilo
Madagascar
KWAME NKRUMAH'S VISIONARY LEADERSHIP AWARD
"Let's unify AFRICA!
I believe I am the right one as I aim to inspire, develop, and support the African society in making the pan-African dream come true through concrete initiatives: with a continental Education and connection based on indigenous values, identities, cultures, to promote human rights, solidarity, environmental preservation and community rules (Agenda2063).
I will start by implementing my initiatives in Madagascar and execute them around Africa. Through ADN's Coderbus to promote STEM industry, Bibliobus for Children to improve literacy rates, and the Ecolobus to spread a zero-plastic culture.
Then initiate a Digital Pan-African Leadership Program to educate about good governance and civics education to allow young leaders to get interested in political careers for good decision making. Joining the African Youth Architects network will allow me to grow as a leader and impact the community to become the lever of change to inspire Social Pan-African initiatives."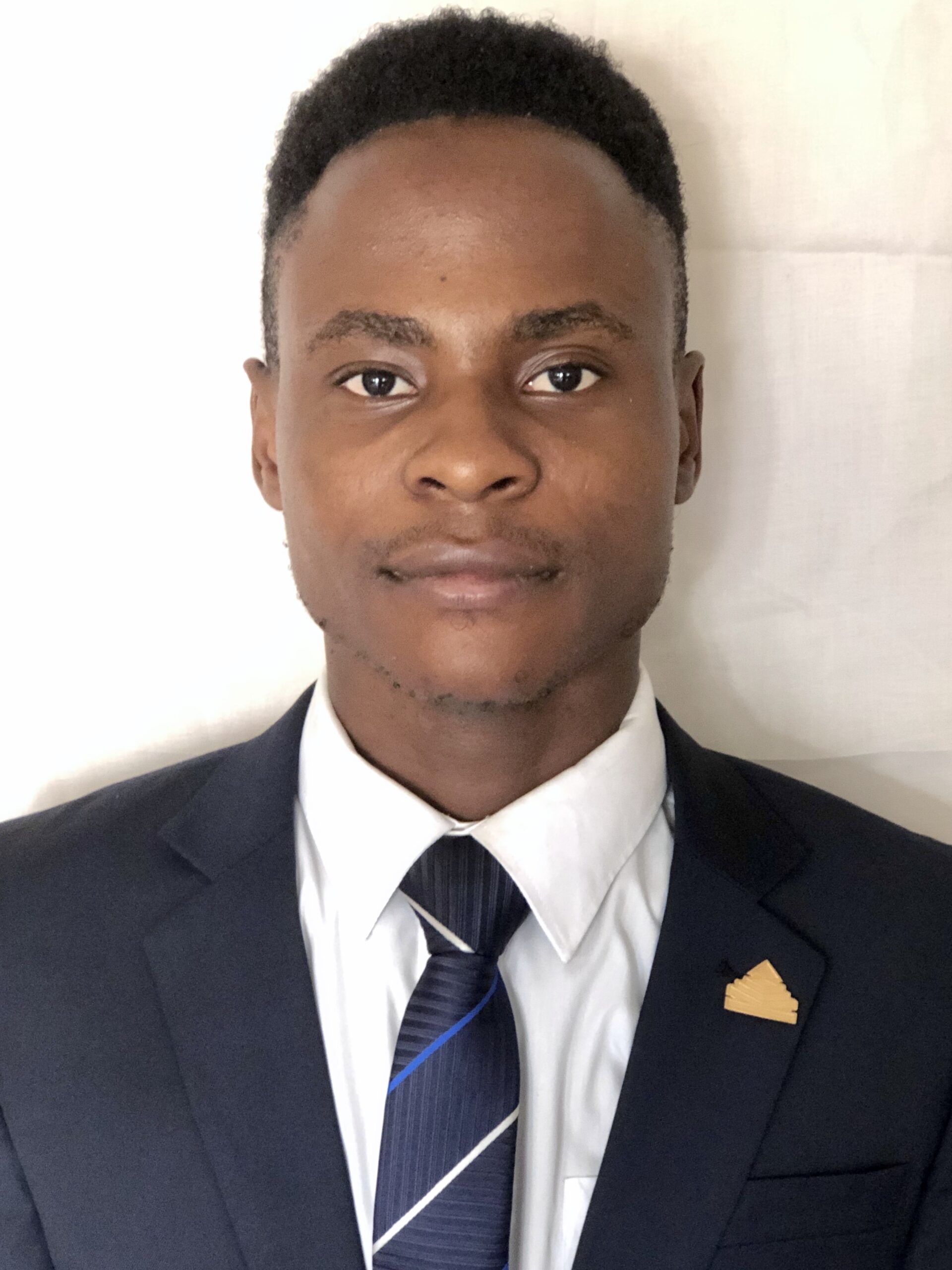 Kehinde Odanye
Nigeria
KWAME NKRUMAH'S VISIONARY LEADERSHIP AWARD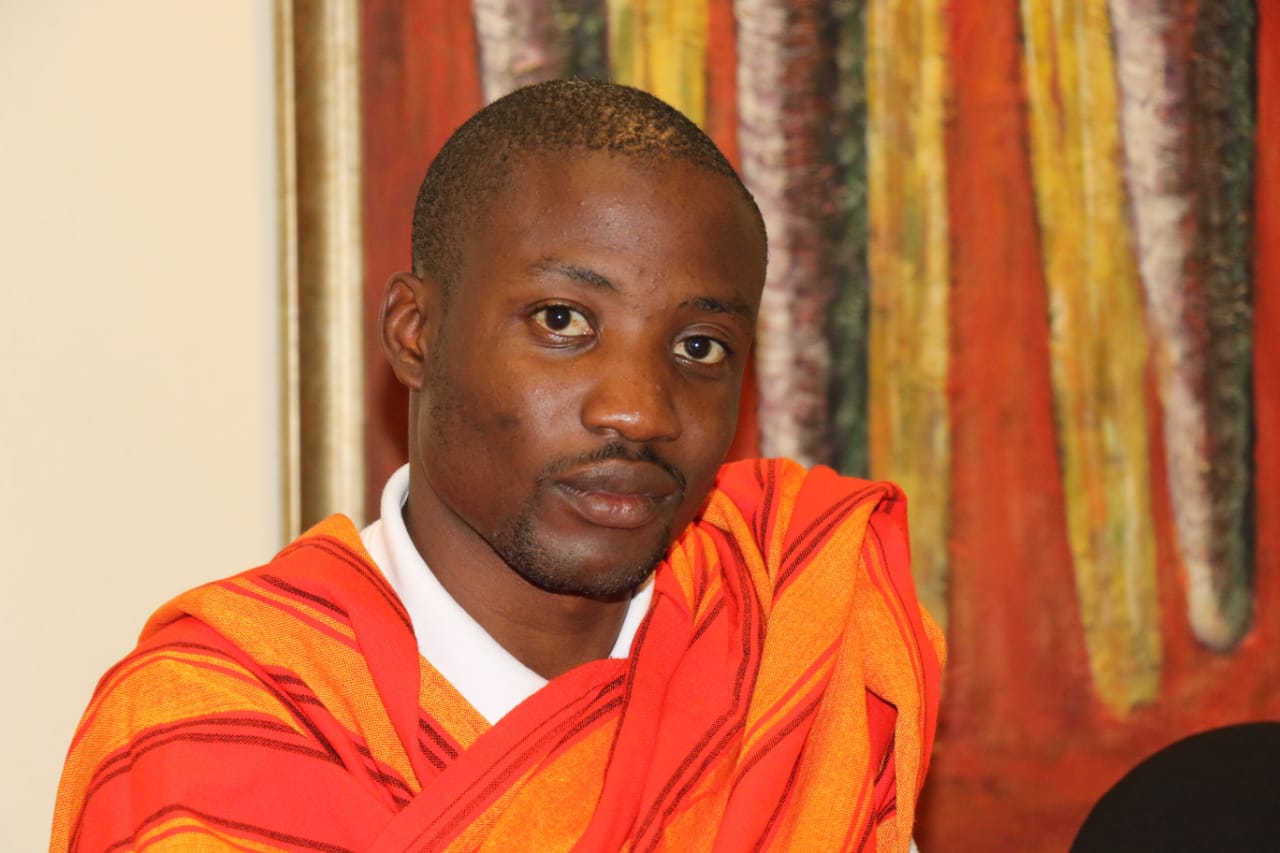 Kevin Oduor Lunzalu
Kenya
NELSON MANDELA'S HUMANITARIAN AWARD
"I'm very humbled to have been nominated for Young African Leaders Awards. I'm the Co-founder of the Kenyan Youth Biodiversity Network (KYBN), a youth-led organization that empowers young people to take informed action on biodiversity conservation & climate change. My work is inclined towards the global Sustainable Development Goals (Mainly SDGs 13, 1, 14, 15, and 17) ; and Agenda 2063 of the African Union, as showcased in reference materials provided. The Young African Leaders Award is quite an important recognition to our work at KYBN.
It will be a great catalyst for me and my team to work even harder towards ensuring that youth voices are fully heard in environmental decision-making processes in Kenya, and that their actions are documented, recognized, and funded- to significantly contribute to the continent's conservation goals. I look forward to connecting and working closely with other nominees and winners of the awards to jointly drive a continental youth-led agenda towards a greener, environmentally just and sustainable Africa."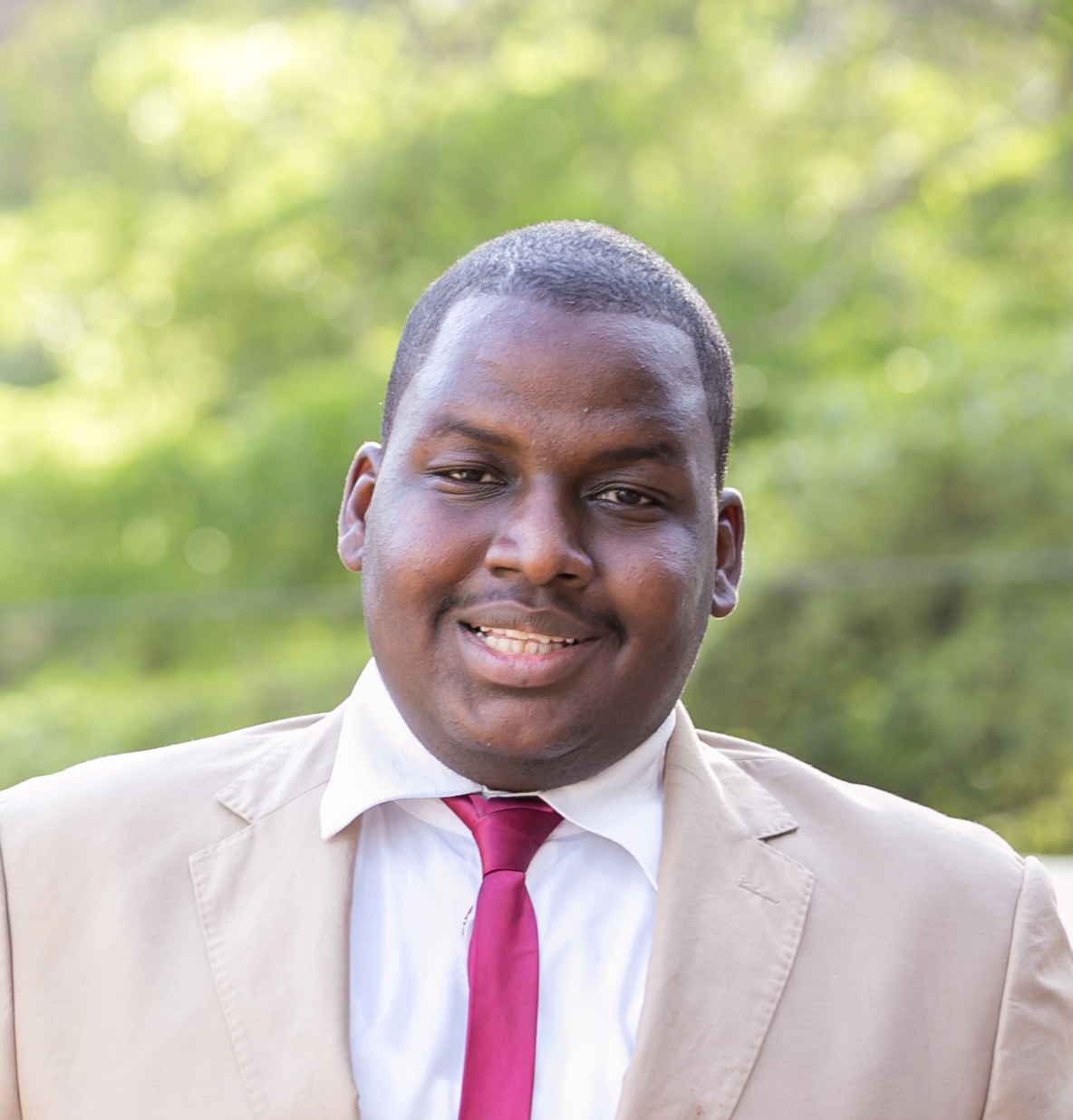 Logman Osman Ahmed Alhag
Sudan
UNIVERSAL PEACE AWARD
"I am the best candidate because of my work for Africa Peace and Security, Mediation, and YPS
to bring African Youth Interests into the regional and international spotlight and integrate the
AU, UN, IGAD, and other RECs Peace and Security Agendas into the context of Africa's Young
People. I am a member of the African Union Youth for Peace Program, a technical expert and
member of the IGAD roster of mediators, and a member of anti-hate speech projects in Sudan,
South Sudan, and Kenya.
I reviewed the IGAD Regional Strategy for Countering Violent Extremism, the Mediation Support Unit Reconciliation Framework, and the Sudan National Strategy to Counter Terrorism. I spoke at TEDx, the BBC, and many radio and TV stations in Sudan, Ethiopia, South Africa, and Nigeria. My work for African peace and security and AU 2063 goals earned me awards, including the Future of Africa Leaders Awards 2020."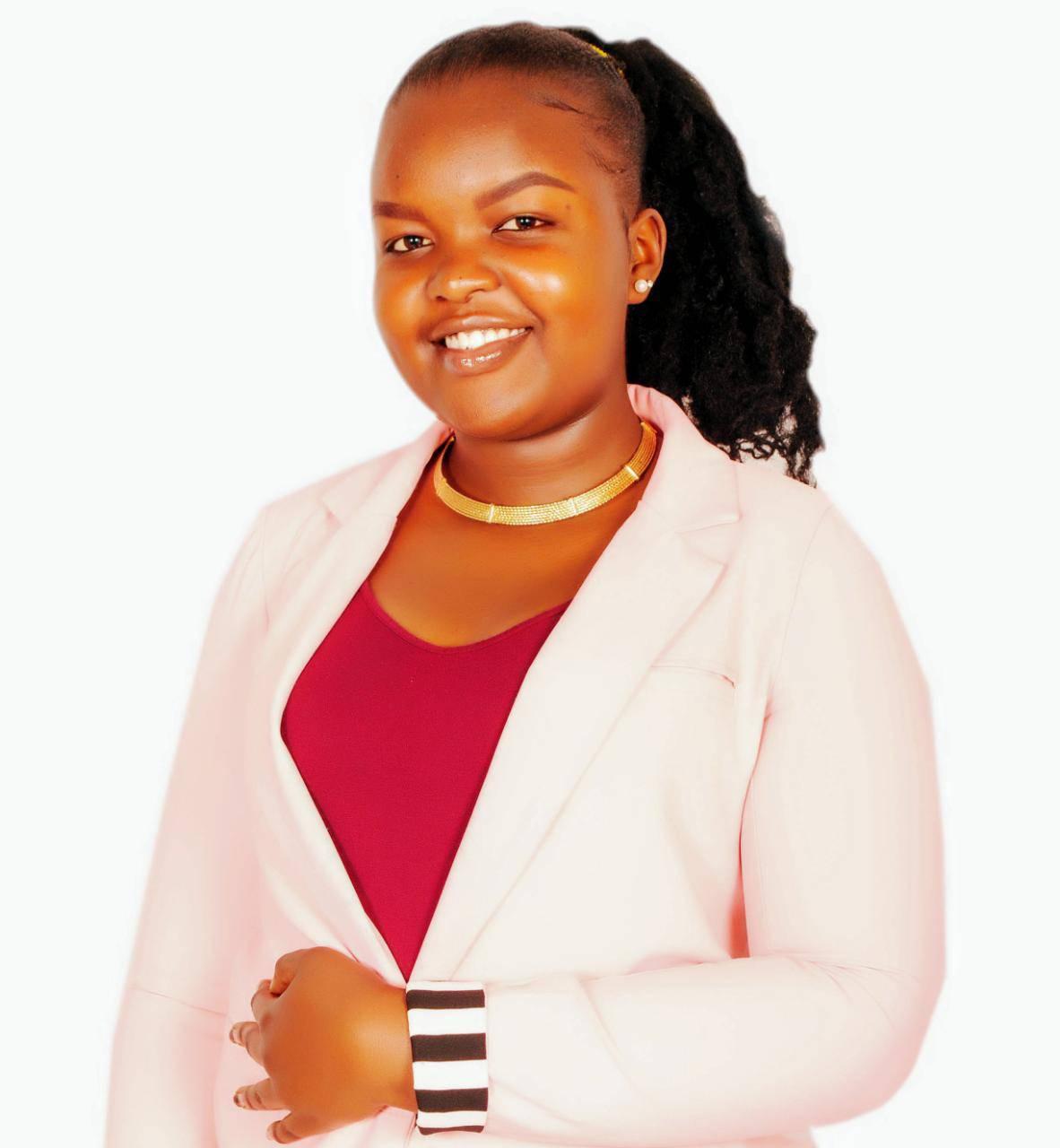 Macrina Cheboi
Kenya
NELSON MANDELA'S HUMANITARIAN AWARD
"In Nelson Mandela's words, `` As long as poverty, injustice and gross inequality persists in our world, none of us can truly rest. ``As a community and youth leader, I have continually thrived at building better communities and consequently improving the world for others in different sustainable ways; most especially in advocating for quality education, reduced inequalities and zero poverty. The responsibility that comes with this award will give me that push to continue with my advocacy despite the challenges. Above all, I want people to see what we are doing and I also want the young girls and youths that I am helping, to see that what we're doing is recognizable and of value not only in our community, but globally too. This award will help me realize this dream."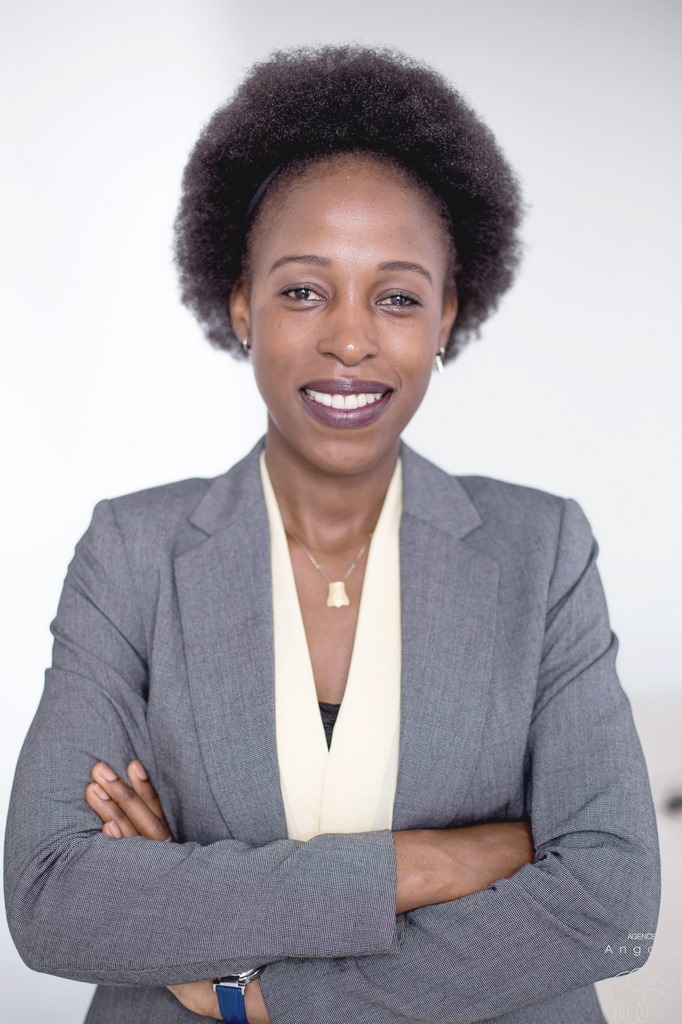 Mawoudé Minthé
Guinée
YOUNG WOMEN OF INNOVATION AND LEADERSHIP AWARD
"As founder and president of the NGO Colibris Afrique, for me a true leader is a thinking head, a person who trains leaders with whom he or she accomplishes what he or she wants to see accomplished (presentation link of our team). Colibris Afrique was just an idea I had when I was a student. In one year, the NGO was able to find its place within the African Diaspora and become a true source of inspiration for many young Africans around the world.
If I win this award, I will continue to contribute to tomorrow's Africa. An Africa where young girls and boys have access to education, an Africa where the young generation is conscious of their absolute power to make change, an Africa where a young girl can aspire to make her own choices and to draw her own path."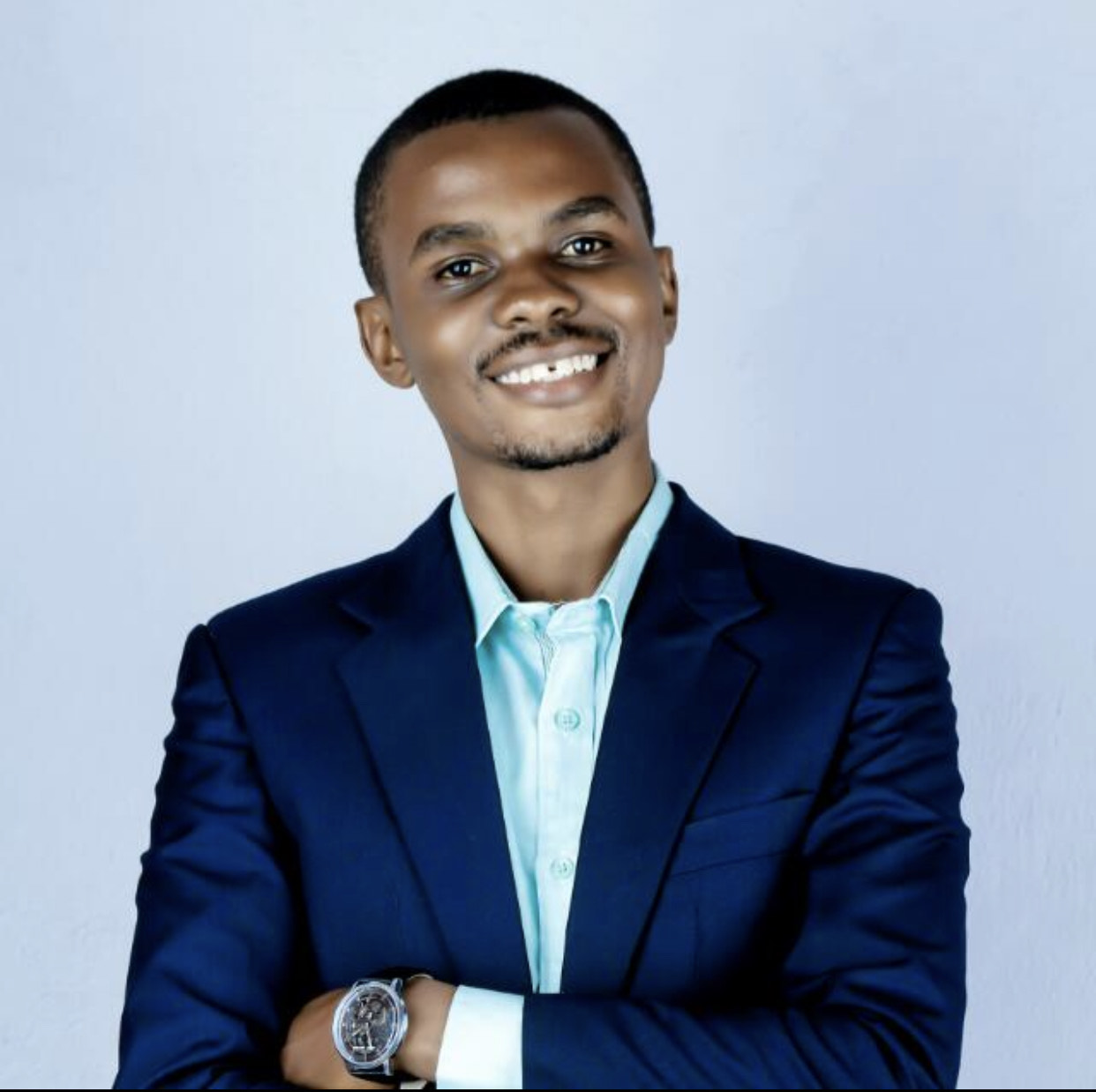 Medi Muyisa
DR Congo
KWAME NKRUMAH'S VISIONARY LEADERSHIP AWARD
"Despite the context of war and conflict that persists in Eastern DRC, the great work we
are doing and the considerable impact that is being made on the ground makes me a
favourable candidate for this award. Through our work, we have managed to change the lives
of more than 1500 young people and children by showing them their responsibility for
solving problems in the community.
This award will be a symbol of hope for those thousands of young people and children who
are victims of war in my country. This prize will be used to support young children from
armed groups in my country to start entrepreneurial actions for self-reliance as they are often
very discriminated. It is also to support these children orphaned by war that we support in
education and thus ensure their future."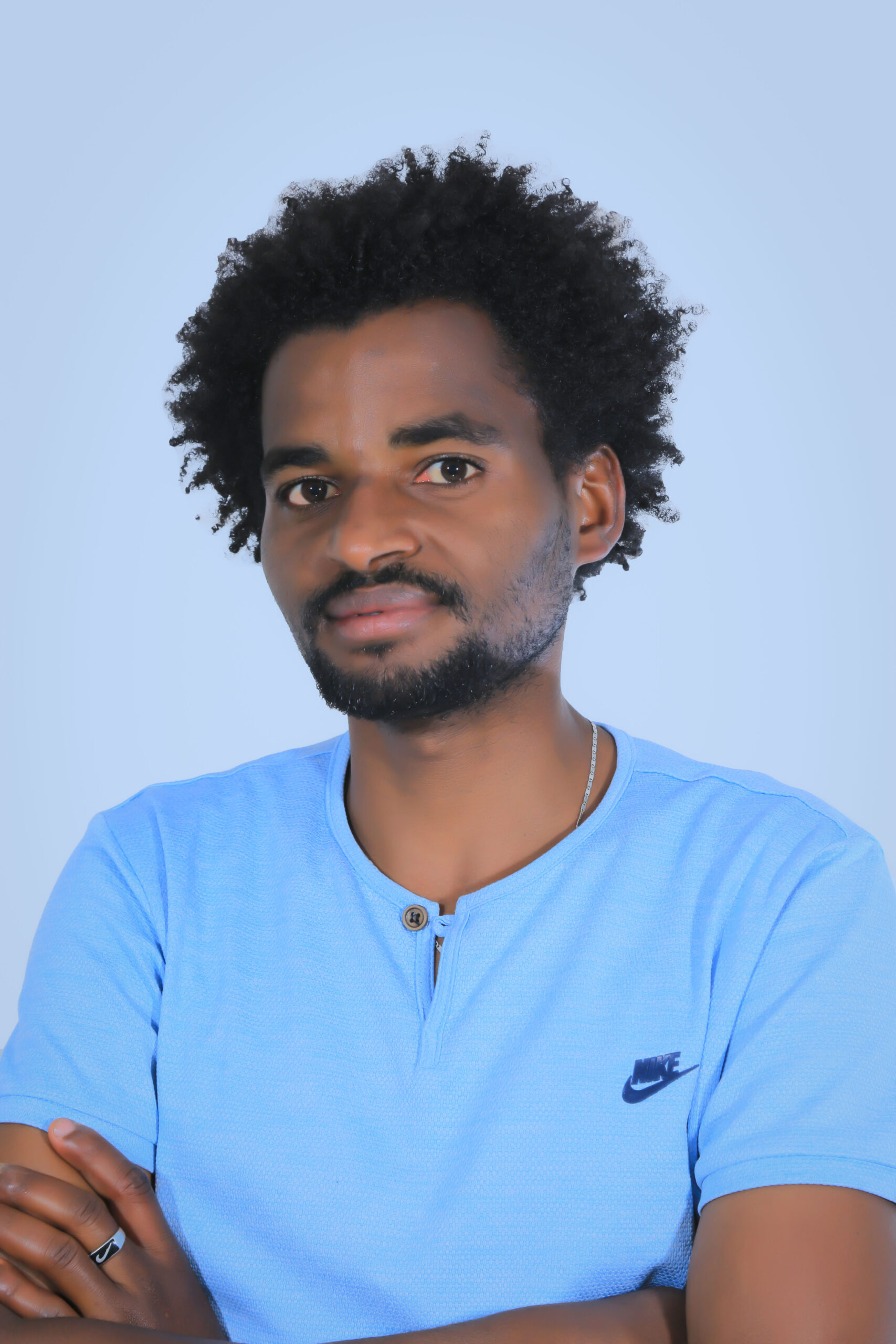 Melaku Hailu Gudeta
Ethiopia
NELSON MANDELA'S HUMANITARIAN AWARD
"1.I believe I am the right candidate for this award, because of the dedication and perseverance I have showed in order to grow my work in achieving the Agenda 2063 of the African Union and SDGs . My work in volunteerism for almost a decade, evidenced by by current position as the Founder and Executive Director of Model African Union-Ethiopia, promoting SDGs and involving the youth in decision making processes of policies that are beneficiary for them has been my main activity. Through simulation conferences, volunteerism, soft skills development, entrepreneurship and creation of networking platforms, young college and high-school students in Ethiopia and other African countries have been encouraged to take steps that are important to them, in the process contributing to the ideals of Agenda 2063, on a mass scale. If I win this award, I will expand my work's reach globally and create more opportunities for the African Youth."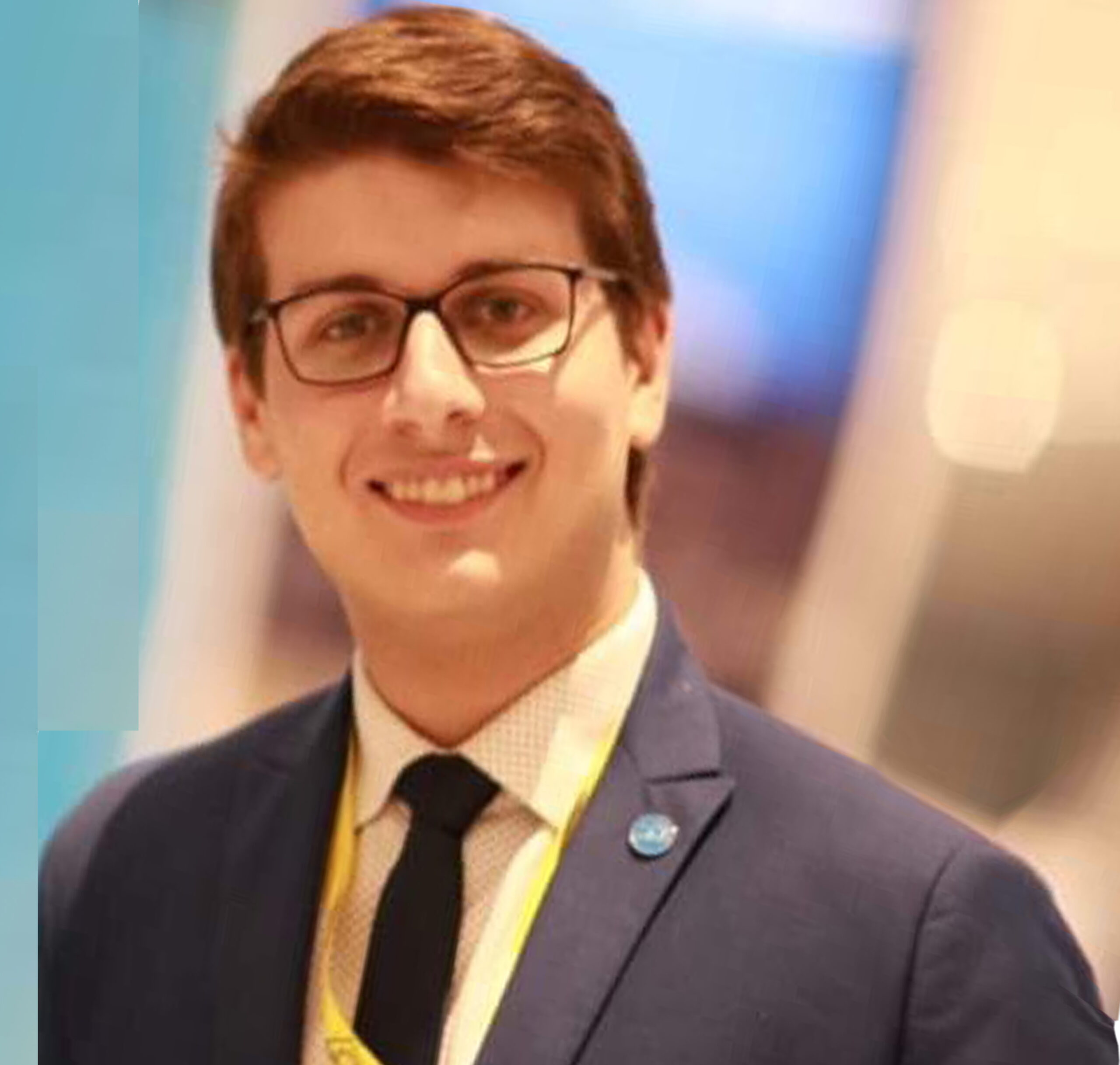 Mohamed Ashraf Shata
Egypt
GLOBAL ENVIRONMENT AWARD
``I am committed to instilling the water-energy-food nexus philosophy of integrating resources to solve challenges in our African communities at grassroots level. The right leadership could help mobilize the environmental and human resources towards integrated solutions that are science-based and participatory, securing a buy-in from the community. I believe with my focus on sustainable development from a WEF Nexus perspective and encouraged by the award, I could strive towards including low-impact / low-cost locally sourced practices in designing developmental interventions in a way that is human-centric, considering the economic viability of the solutions while boosting the local social capital.
With my technical engineering background, environmental advocacy on national and international levels and current position where help my country meets its NDCs, I could help design initiatives that empower grassroots to self-organize, self-advocate, pool resources and take charge of their own developmental needs; maximizing impact of social investments and entrepreneurship``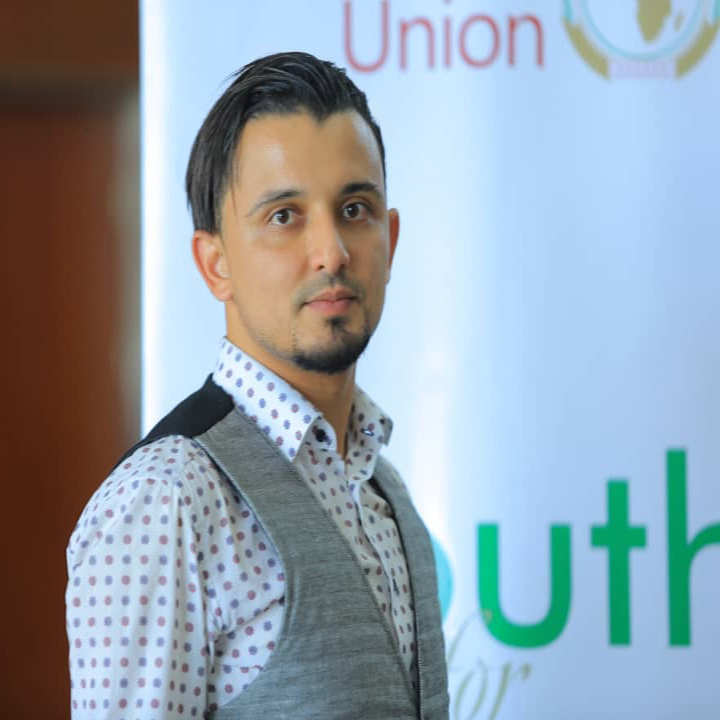 Mohamed Edabbar
Libya
UNIVERSAL PEACE AWARD
"Mohamed EDABBAR is a Peace and Security Policy expert, he has been working on promoting peace and security with a wide spectrum at different levels, locally, regionally, and globally.
Mohamed has served for many years with the United Nations Major Group for Children and Youth (MGCY), currently he is a Policy Officer of Peace and Security and Secretariat Member at UN MGCY.
In November 2019, he was elected among thousands of candidates as an African Union Youth Ambassador for Peace (AYAP) then during the 33rd African Union Summit of the Assembly of Heads of States to advocate and promote the mainstreaming and inclusion of young Africans in peace and security.
Recently, he has been selected and recognised among 50 Global Peace Ambassadors 2021 from the European Commission and OYW. And for his commitment in the global peace and security fields, he was also announced as an Ambassador for the Institute for Economics and Peace (IEP) 2021-2022."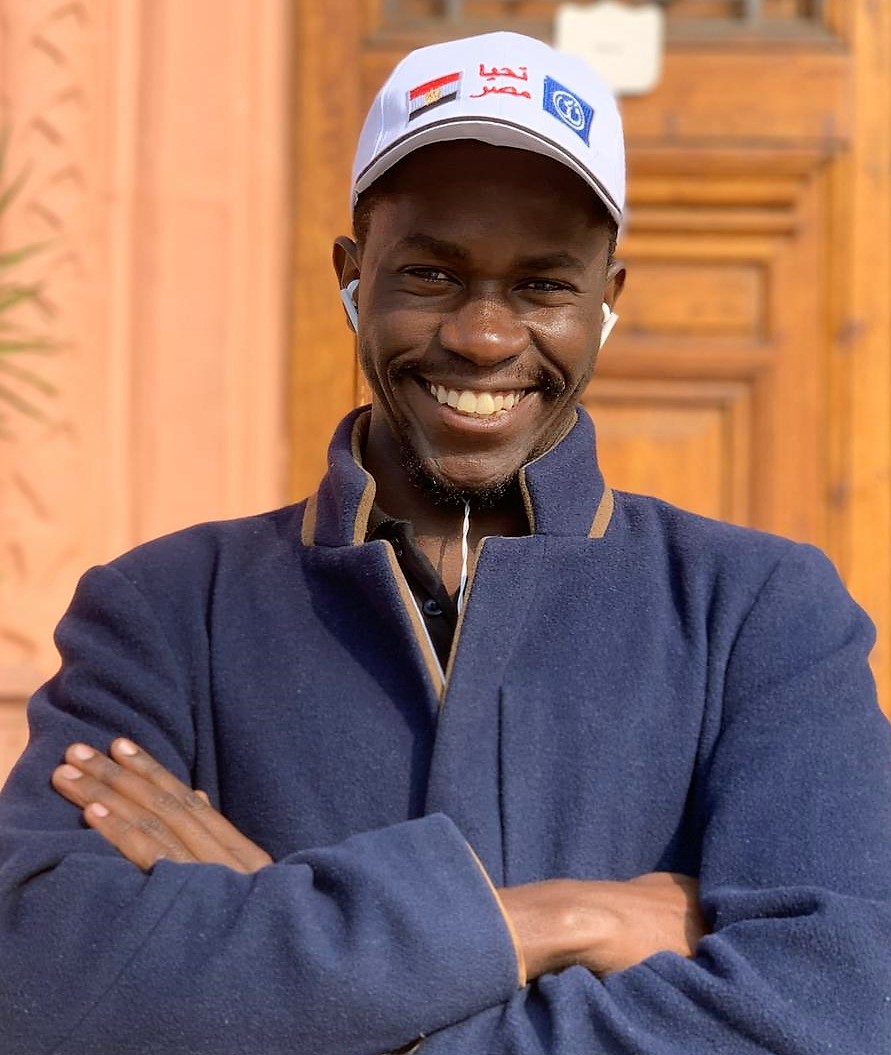 Muhammed Dimma Mawejje
Uganda
GLOBAL ENVIRONMENT AWARD
"Am a social entrepreneur, visionary Leader, mentor, and Advisor who has been bootstrapping for the last 8 in Uganda. Despite the challenges, I encounter every day in the unsupported ecosystem, have constantly beaten the odds and thrived in a very competitive market and community. My strength, ability, confidence, and passion for solving problems in my community use entrepreneurial skill, and determination to see every task through no matter what.
Winning this award will embark on my journey where I envision revolutionizing the fashion industry using plant-based substances and textile waste to improve the social and economic status of youth and women in Uganda and Africa through different projects and programs. I am looking to use the award as a advocating tool to raise awareness about our environment and how we can best protect it, especially where the fashion industry is contributing to its distraction due to the high production of clothing that is not used and ends up in landfills of African coastline and cities while emitting emissions."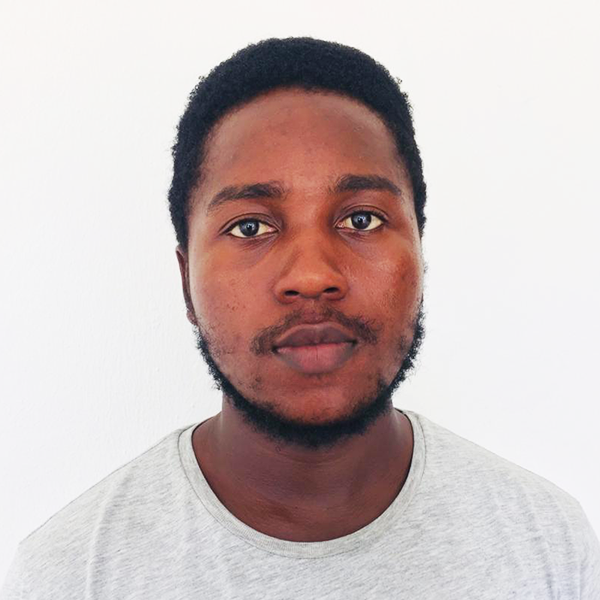 Nathan N.Gbelee
Liberia
EDUCATION STAR AWARD
"I'm confident that I'm the best candidate for this illustrious award because of my altruistic contributions to the educational system of Liberia and Africa overtime through the myriad of pro-active educational initiatives and interventions designed to provide succor whilst promoting goal 4 of the Sustainable Development Goals—quality education.
Upon winning this award, I promise to promote a culture of unique leadership and pro-active self-education among young people through series of initiatives including: experience sharing sessions and first hand capacity building programs among others whilst networking with other brilliant African leaders from around Africa via the African Youth Architect platform; as we emerge as ambassadors of this unique initiative—and thrust in exploring our potentials, whilst changing the sad narrative."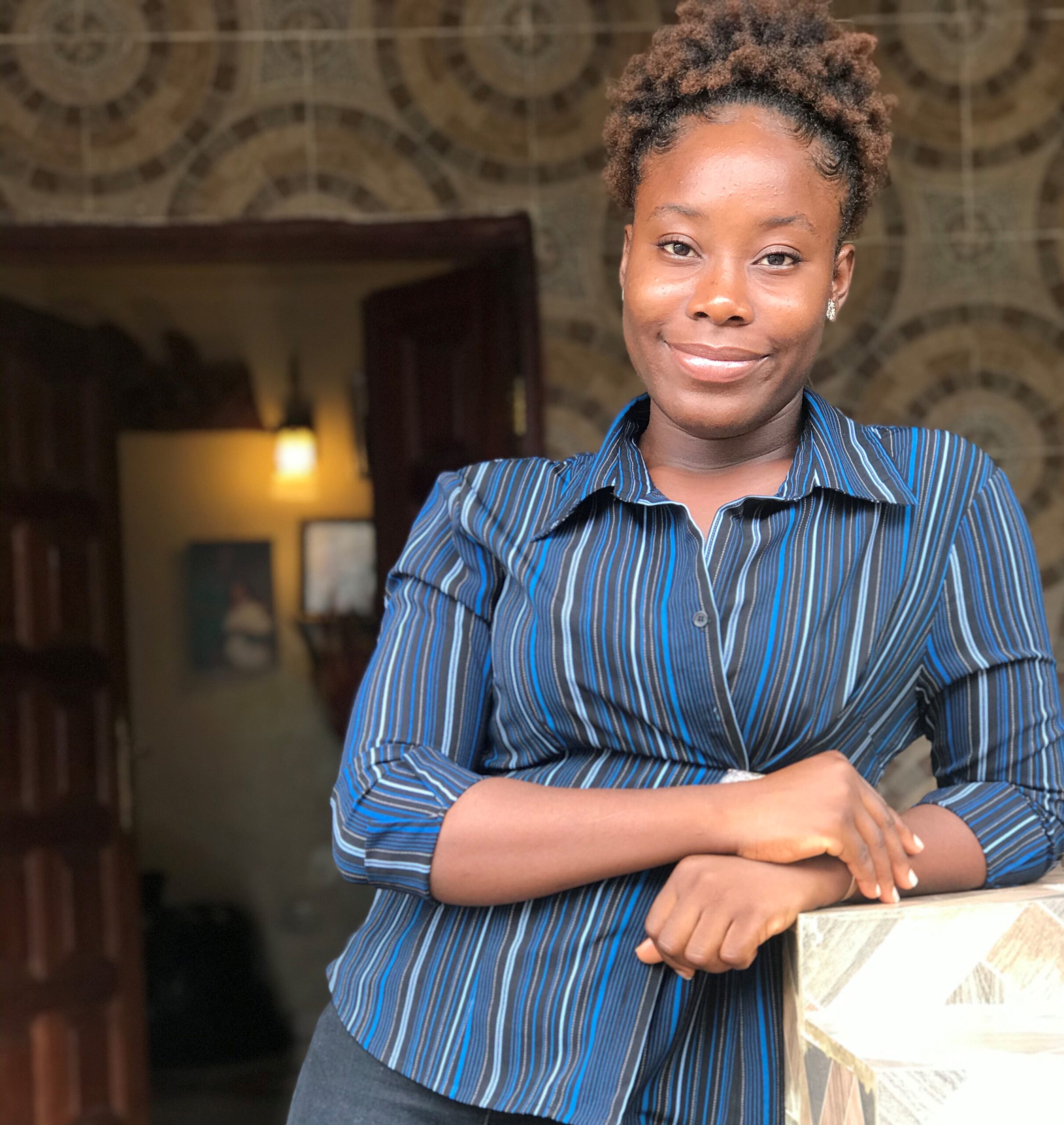 Olivia Precious Livingstone
Liberia
GLOBAL ENVIRONMENT AWARD
"Like the "Thank You", "God Bless You" and positive behavioral changes in the people that I work with, awards are also sources of motivation for me. They inspire me to keep making impacts in the little way I can and indicate that my work is being felt and appreciated. Winning this award, however, will mean more to me because it will motivate not only me but the majority of young women in my country who are at the point of giving up because of a lack of financial and moral support.
It will signal to them that the world is watching us and no matter how alone or frustrated we feel on this journey of changing the world, our efforts will never go unnoticed. This award will be utilized solely to inspire my peers and expand my network by building new and healthy professional relationships."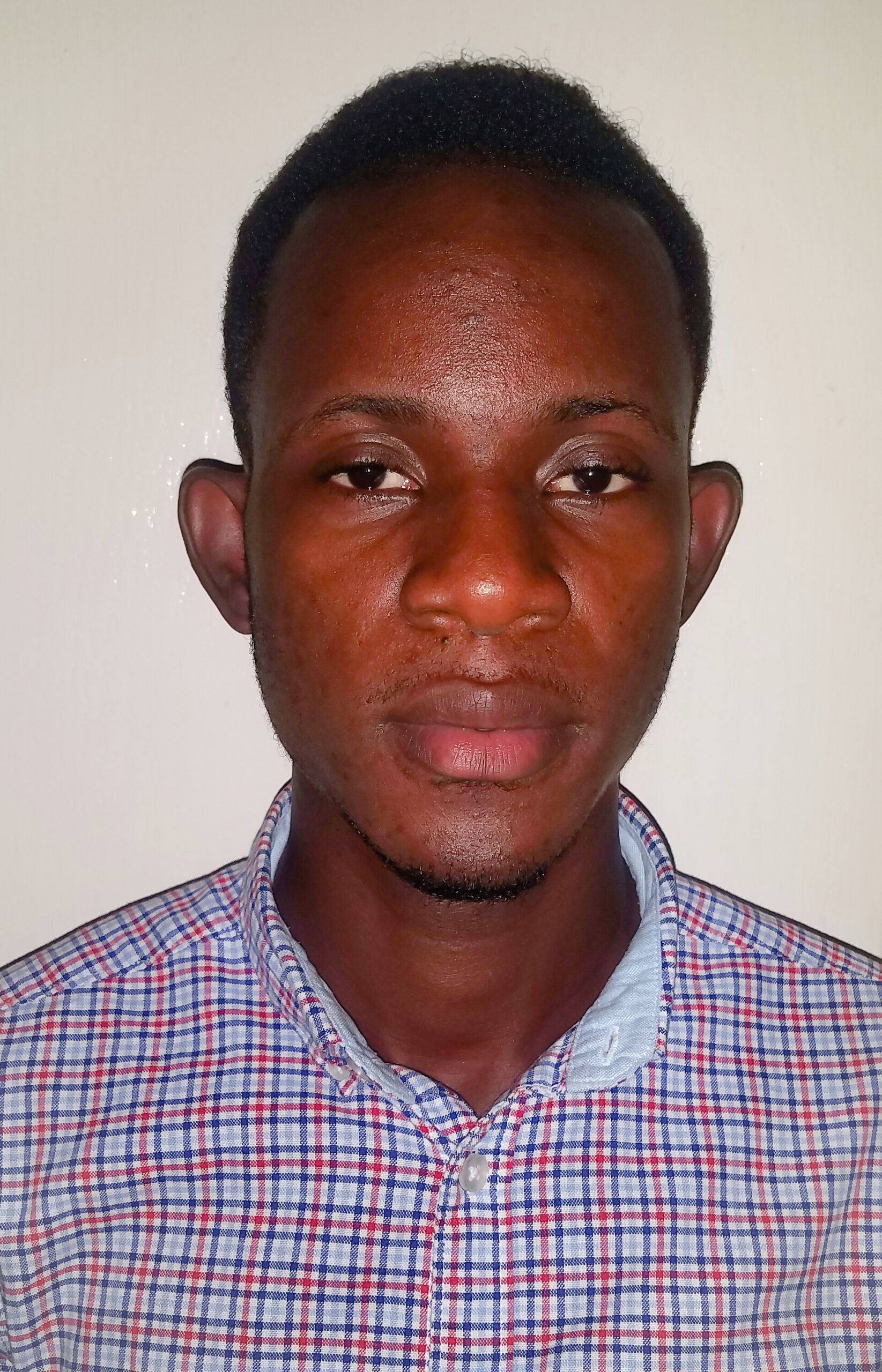 Pryma Vanh Mpassi Nguegue
Republic of the Congo
FIRST-GENERATION ENTREPRENEUR
"I am committed to revolutionizing real estate in my community through the Blue Card Classic, an innovative solution implemented by ImmoB to eradicate poverty by giving young unemployed and abandoned youth on the streets the opportunity to earn significant income to make ends meet for their month and become a co-owner of rental properties.
My project has helped many families in my community and beyond, during and after the coronavirus crisis. After this award, I will work harder to eradicate poverty and reduce inequalities while instilling a culture of savings and investment among the youth of my community.
By 2025, my goal is for every Congolese household to hold the Blue Card Classic and by 2027, the construction of a sustainable city in which at least 1% of the Congolese population will actively participate."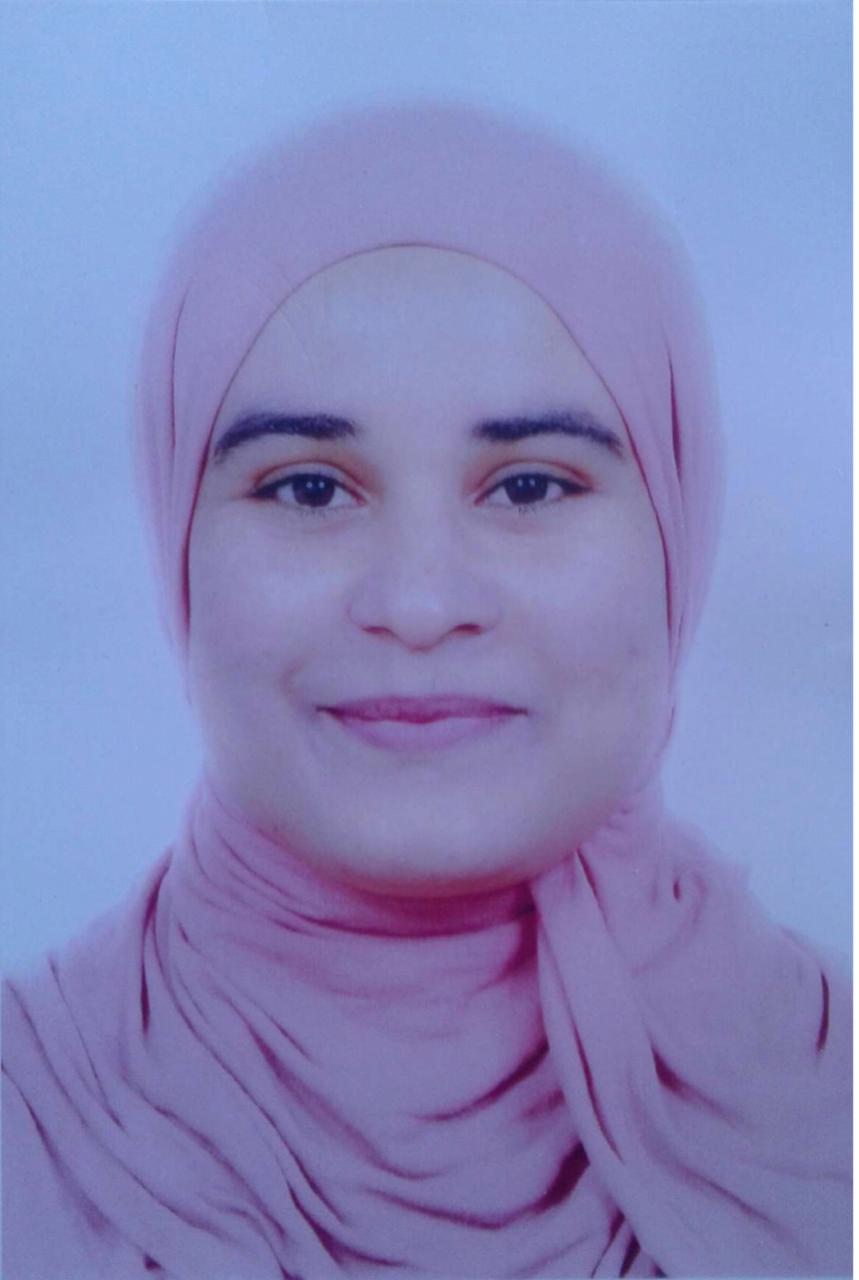 Radhia Kilani
Tunisia
NELSON MANDELA'S HUMANITARIAN AWARD
"I see that I am the right candidate to be selected for the following reasons. I have been active in civil society for more than 6 years now. My profile combines between various skills and competences and this may distinguish me from other candidates. I am an English language teacher but I did not restrict myself to the field of teaching only but I entered many domains namely First Aids, volunteering, Training, Work security and so on. I have participated in so many good practices in my community that still have positive impacts till nowadays even during the Covid19 era. I have participated in more than one international experience and this is a plus for me since I gained a large relational network all over the world. This has made me confident about my activities and participation in different events. This is why I see that I may be one of the best candidates to be chosen and this will be a great opportunity for me since it will pave the way for many new opportunities. After winning this award, I am planning to carry on calling people to volunteer and be positive change makers in order to gain this award as well. I will continue my work in civil society and why not create partnerships between our organizations and yours in the future for the benefit of our communities."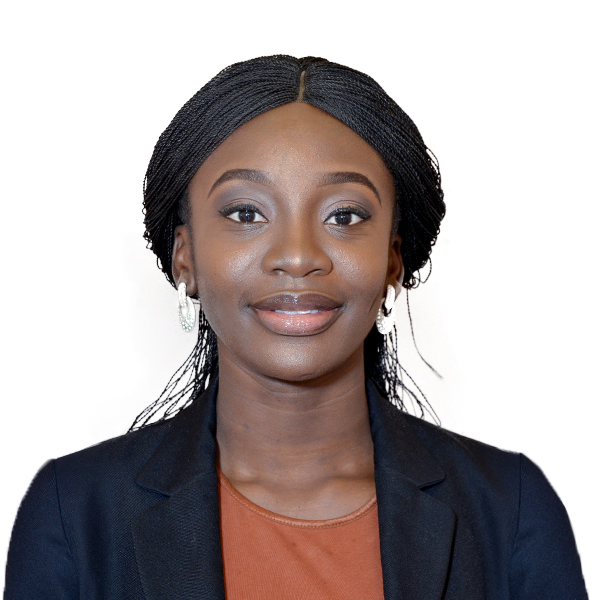 Temilade Ruth Adelakun
Nigeria
YOUNG WOMEN OF INNOVATION AND LEADERSHIP AWARD
"I am passionately committed to leveling up the female representation in STEM fields by attracting, retaining and advancing more young women to STEM. I am a role model to young girls in high schools in Nigeria. I am a dedicated volunteer with various STEM organizations and have delivered a series of awareness creation programs on exploring career opportunities in the engineering and technology sector to over 1000 girls in high school.
Furthermore, due to my passion for a better education in Nigeria, During the pandemic, I led a 17-man planning committee and several volunteers to organize the 3-day virtual summit for 3000 African students from over 15 countries in Africa. We had 30 world-class speakers on topics related to leadership, technology, entrepreneurship and innovation.
After winning this award, I plan to work on a project to solve the problem of lack of mentorship for female high school students in Africa."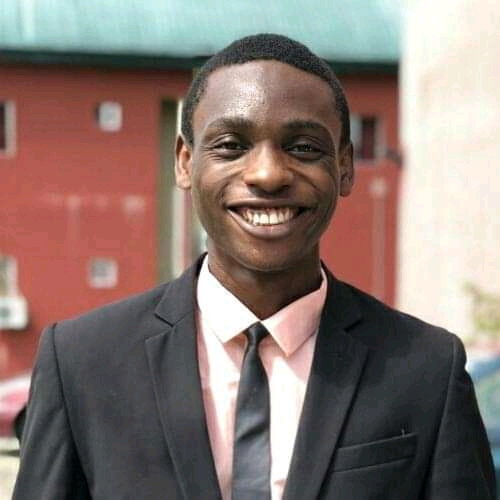 Victor Okechukwu Chimezie
Nigeria
UNIVERSAL PEACE AWARD
"Victor Okechukwu Chimezie is a passionate peacebuilder, Founder of Mind Reformers Network and Outgoing Country Coordinator for Commonwealth Youth Peace Ambassadors Network (CYPAN) in Nigeria.
As the Country Coordinator for CYPAN, he led the partnership with organizations to distribute 500 school books and story books to kids in three Nigerian cities. He also led CYPAN's engagement with UN Peacekeeping in 2021 to hold a social media campaign to celebrate the UN Peacekeeping Day across commonwealth countries in Africa.
In December 2021, he was selected as a Speaker at the online Global launch of the Global CSOs Working Group on Youth Peace and Security. He also facilitated not less than three positive peace trainings for hundreds of young Nigerians and was recently made a United States Institute for Peace Generation Change Fellow.
He hopes to keep driving and advocating for the implementation of the Youth, Peace and Security Agenda across Africa."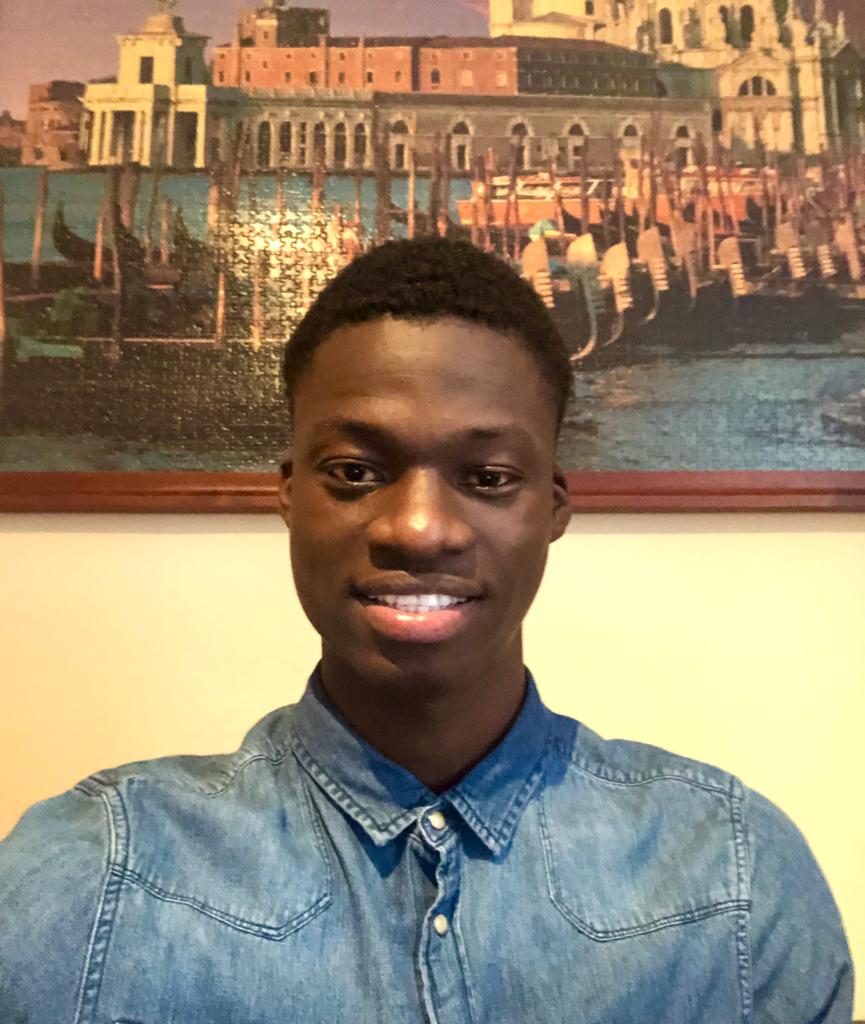 Youssoupha Traore
Senegal
GLOBAL ENVIRONMENT AWARD
"I am a youth leader and founder of the NatureFriends UGB a youth led organization that
focuses on Climate Justice, and the promotion of the SDGs . After my return from Germany
in 2017 where I have undergone several trainings on the implementation of the Sustainable
Development Goals of the United Nations (UN SDGs), I felt the need to gather the youth and
engage them into the protection of the environment and the promotion of the SDGs which are
the solution for a sustainable future. Since then me and my team have set several projects
within our community which involve environmental conservation, environmental education,
empowerment of youth and women, and promotion of the SDGs within our community.
I and with the help of my team succeeded to get partnership in a project ``Global Youth
Perspectives`` Germany-Senegal supported by the German Federal Ministry for Economic
Cooperation and Development (BMZ) which allow us to have young members travel and
undergo training on SDGs in Germany to return and serve their community every two years.
After winning this award I will be back to serving my community and protecting the
environment like always. But this award will be a great honor for me and my organization."